Impeached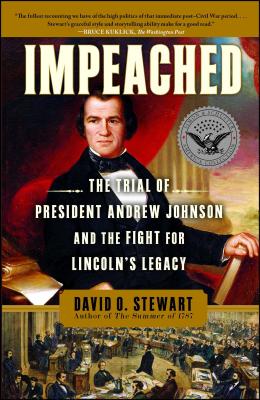 Impeached
The Trial of President Andrew Johnson and the Fight for Lincoln's Legacy
Simon & Schuster, Paperback, 9781416547501, 447pp.
Publication Date: June 15, 2010
* Individual store prices may vary.
Buy Now
or
Shop Local
Enter your zip code below to purchase from an indie close to you.
Description
The fullest recounting we have of the high politics of that immediate post-Civil War period Stewart's graceful style and storytelling ability make for a good read. Bruce Kuklick, "The Washington Post
" Likely to become the standard version of this historic clash between a president and Congress. " Kirkus Reviews "(starred review)
"Impeached "is a fascinating account of the attempt to remove Andrew Johnson from the presidency. Vigorously written, it is by all means the best account of this troubled episode in our history. David Herbert Donald, author of "Lincoln
" Magnificent .Splendidly illuminates an important chapter in American history. Roger Bishop, "BookPage
" David Stewart's "Impeached "is as riveting and rollicking as the best Washington novel. Steven Brill, author of "The Teamsters "and "After"; founder of "The American Lawyer "and Court TV.
About the Author
David O. Stewart is an award-winning author and the president of the "Washington Independent Review of Books". He is the author of several acclaimed histories, including "Madison s Gift: Five Partnerships That Built America"; "The Summer of 1787: The Men Who Invented the Constitution";" Impeached: The Trial of President Andrew Johnson and the Fight for Lincoln s Legacy"; and "American Emperor: Aaron Burr s Challenge to Jefferson s America". Stewart s first novel is "The Lincoln Deception".
Praise For Impeached…
"David Stewart's Impeached is as riveting and rollicking as the best Washington novel. There is all kinds of intrigue -- from allegations of bribery by a 'whiskey ring,' to a cabinet secretary barricading himself in his office, to an incoming vice president giving a drunken tirade on Inauguration Day -- all played out at a deadly serious time, with the Union hanging in the balance. Only it's not a novel; it's Stewart's meticulously researched re-rendering of a time in our history that, he argues persuasively, has been distorted to turn a racist and incompetent Andrew Johnson and his anti-impeachment supporters into courageous defenders of Abe Lincoln's legacy." -- Steven Brill, author of The Teamsters and After; founder of The American Lawyer and Court TV



"Anyone who thinks American politics has lately been at a high level of viciousness should read this gripping story of Andrew Johnson's impeachment trial. There are fewer angels than we have thought, and more political hatred and knife work -- all with fundamental underlying issues of justice and race." -- Anthony Lewis, former New York Times columnist and author of Gideon's Trumpet



"Riveting...Stewart vibrantly renders...the poisonous politics, the personal animosities and the unbridled corruption.... Likely to become the standard version of this historic clash between a president and Congress." -- Kirkus Reviews (starred)