Gone with the Wind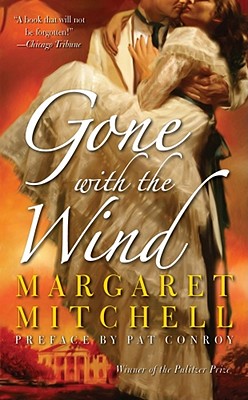 Gone with the Wind
Pocket Books, Mass Market Paperbound, 9781416548942, 1448pp.
Publication Date: May 2008
* Individual store prices may vary.
Buy Now
or
Shop Local
Enter your zip code below to purchase from an indie close to you.
Description
Margaret Mitchell's epic novel of love and war won the Pulitzer Prize and went on to give rise to two authorized sequels and one of the most popular and celebrated movies of all time.

Many novels have been written about the Civil War and its aftermath. None take us into the burning fields and cities of the American South as Gone With the Wind does, creating haunting scenes and thrilling portraits of characters so vivid that we remember their words and feel their fear and hunger for the rest of our lives.

In the two main characters, the white-shouldered, irresistible Scarlett and the flashy, contemptuous Rhett, Margaret Mitchell not only conveyed a timeless story of survival under the harshest of circumstances, she also created two of the most famous lovers in the English-speaking world since Romeo and Juliet.
About the Author


Pat Conroy is the bestselling author of The Water is Wide, The Great Santini, The Lords of Discipline, The Prince of Tides, Beach Music, The Pat Conroy Cookbook, My Losing Season, and South of Broad. He lives in Fripp Island, South Carolina.
Praise For Gone with the Wind…
"Beyond a doubt one of the most remarkable first novels produced by an American writer. It is also one of the best." -- The New York Times

"The best novel to have ever come out of the South...it is unsurpassed in the whole of American writing." -- The Washington Post

"Fascinating and unforgettable! A remarkable book, a spectacular book, a book that will not be forgotten!" -- Chicago Tribune

"Gone with the Wind is one of those rare books that we never forget. We read it when we're young and fall in love with the characters, then we watch the film and read the book again and watch the film again and never get tired of revisiting an era that is the most important in our history. Rhett and Scarlet and Melanie and Ashley and Big Sam and Mammy and Archie the convict are characters who always remain with us, in the same way that Twain's characters do. No one ever forgets the scene when Scarlet wanders among the wounded in the Atlanta train yard; no one ever forgets the moment Melanie and Scarlet drag the body of the dead Federal soldier down the staircase, a step at a time. Gone with the Wind is an epic story. Anyone who has not read it has missed one of the greatest literary experiences a reader can have." -- James Lee Burke, bestselling author of The Tin Roof Blowdown

"I first read Gone with the Wind in grade school--a boy of the upper South who'd seen the great movie and felt compelled to learn what lay behind it, all thousand-plus pages worth. No page disappointed me. What other American novel surpasses its eagerness to tell a great story of love and war; what characters equal the cantankerous passions of Scarlett and Rhett? Even Scott Fitzgerald spoke well of it. What more could I ask, even seven decades later?" -- Reynolds Price

"In my own personal life, I find many similarities to Scarlett's: The whole 17-inch waist thing notwithstanding, I do love a barbecue, both for the food and the men--I have been known to "eat like a field hand and gobble like a hawg"--I admit that at least on one occasion I may have feigned interest in some guy to further my own interests--I have fought tooth, toenail and tirelessly for my family--I learn slow but I learn good--and even so, I still adore the prospect of dealing with most things...Tomorrow." -- Jill Conner Browne, The Sweet Potato Queen, bestselling author of The Sweet Potato Queens' First Big-Ass Novel

"In 1936 I was in E.M. Daggett Junior High in Ft. Worth, Texas. By some chance I was able to read Gone with the Wind early on. Then and now, I found it one of the great experiences of a young life. I still list it as one of my 10 favorite books." -- Liz Smith, nationally syndicated columnist

"Not just a great love story, Gone with the Wind is one of the most powerful anti-war novels ever written. Told from the standpoint of the women left behind, author Margaret Mitchell brilliantly illustrates the heartbreaking and devastating effects of war on the land and its people." -- Fannie Flagg, Academy Award nominated-author

"Let's say you've read Gone with the Wind at least twice, and seen the movie over and again. So, here's a thought. Buy this handsome paperback edition, just for Pat Conroy's preface. This passionate, nearly breathless love letter is a Song of Solomon to Margaret Mitchell, Scarlett O'Hara, and Conroy's beautiful, GTW-obsessed mother. Indeed, his luminous preface packs a durable wallop, just like the epic Pulitzer prize-winning work that inspires it." -- Jan Karon, author of The Mitford Years series

"GWTW is an indelible portrait of a unique time and place, American's greatest political and moral conflict, and the myths that surround it -- an all absorbing spectacle of a read even for postmodern readers. Mitchell vividly portrays the disillusionment and devastation of war, the ignorance of the uninitiated, and the transformation of arrogance into tenacity that shaped the first "new South." All the details of history and place come together as a rich backdrop for those unforgettable characters: shallow and selfish Scarlett, sincere Melanie, moony-eyed Ashley, and the sage, pragmatic, dashing, and rakish Rhett Butler--the most enduring heartthrob of American literature has produced. I'd reread the book for the thrill of Rhett alone!" -- Darnell Arnoult, author of Sufficient Grace

"For sheer readability I can think of nothing it must give way before. Miss Mitchell proves herself a staggeringly gifted storyteller."
--The New Yorker