Love Child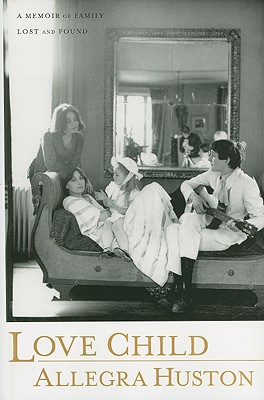 Love Child
A Memoir of Family Lost and Found
Simon & Schuster, Hardcover, 9781416551577, 304pp.
Publication Date: April 7, 2009
* Individual store prices may vary.
Buy at Local Store
Enter your zip code below to purchase from an indie close to you.
or
Not Currently Available for Direct Purchase
Description
When Allegra Huston was four years old, her mother was killed in a car crash. Soon afterward, she was introduced to an intimidating man wreathed in cigar smoke -- the legendary film director John Huston -- with the words, "This is your father."
So began an extraordinary odyssey: from the magical Huston estate in Ireland to the Long Island suburbs to a hidden paradise in Mexico -- and, at the side of her older sister, Anjelica, into the hilltop retreats of Jack Nicholson, Ryan O'Neal, and Marlon Brando. Allegra's is the penetrating gaze of an outsider never quite sure if she belongs in this rarefied world and of a motherless child trying to make sense of her famous, fragmented family. Then, at the age of twelve, Allegra's precarious sense of self was shattered when she was, once more, introduced to her father -- her real one this time, the British aristocrat and historian John Julius Norwich.
At the heart of Love Child is Allegra's search through the unreliable certainties of memory for the widely adored mother she never knew -- the ghost who shadowed her childhood and left her in a web of awkward and unwelcome truths. With clear-eyed tenderness, Allegra tells of how she forged bonds with both her famous fathers, transforming her mother's difficult legacy into a hard-won blessing. Beautifully written and forensically honest, Love Child is a seductive insight into one of Hollywood's great dynasties and the story of how, in a family that defied convention, one woman found her balance on the shifting sands of conflicting loyalties.
About the Author
ALLEGRA HUSTON was born in London and raised in Ireland, Long Island, and Los Angeles. She has worked with Chatto & Windus publishers in London and Weidenfeld & Nicolson, where she was Editorial Director from 1990 to 1994. A freelance writer and editor for more than ten years, her work has appeared in The Times, the Independent, the Tatler, and Harper's Bazaar (all in the UK), in French Vogue, and in the U.S. in People magazine, the Santa Fean, and Mothering. She lives in Taos, New Mexico, with her six-year-old son, Rafa, and his father, Cisco Guevara.