Duma Key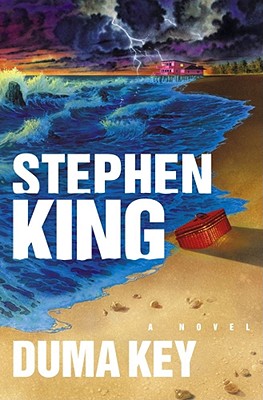 Duma Key
Scribner, Hardcover, 9781416552512, 624pp.
Publication Date: January 1, 2008
* Individual store prices may vary.
Buy at Local Store
Enter your zip code below to purchase from an indie close to you.
or
Not Currently Available for Direct Purchase
Description
No more than a dark pencil line on a blank page. A horizon line, maybe. But also a slot for blackness to pour through...
A terrible construction site accident takes Edgar Freemantle's right arm and scrambles his memory and his mind, leaving him with little but rage as he begins the ordeal of rehabilitation. A marriage that produced two lovely daughters suddenly ends, and Edgar begins to wish he hadn't survived the injuries that could have killed him. He wants out. His psychologist, Dr. Kamen, suggests a "geographic cure," a new life distant from the Twin Cities and the building business Edgar grew from scratch. And Kamen suggests something else.
"Edgar, does anything make you happy?"
"I used to sketch."
"Take it up again. You need hedges...hedges against the night."
Edgar leaves Minnesota for a rented house on Duma Key, a stunningly beautiful, eerily undeveloped splinter of the Florida coast. The sun setting into the Gulf of Mexico and the tidal rattling of shells on the beach call out to him, and Edgar draws. A visit from Ilse, the daughter he dotes on, starts his movement out of solitude. He meets a kindred spirit in Wireman, a man reluctant to reveal his own wounds, and then Elizabeth Eastlake, a sick old woman whose roots are tangled deep in Duma Key. Now Edgar paints, sometimes feverishly, his exploding talent both a wonder and a weapon. Many of his paintings have a power that cannot be controlled. When Elizabeth's past unfolds and the ghosts of her childhood begin to appear, the damage of which they are capable is truly devastating. The tenacity of love, the perils of creativity, the mysteries of memory and the nature of the supernatural -- Stephen King gives us a novel as fascinating as it is gripping and terrifying.
About the Author
Stephen King is the author of more than fifty books, all of them worldwide bestsellers. Among his most recent are Full Dark No Stars, Blockade Billy, Under the Dome, Just After Sunset, the Dark Tower novels, Cell, From a Buick 8, Everything's Eventual, Hearts in Atlantis, The Girl Who Loved Tom Gordon, Lisey's Story and Bag of Bones. His acclaimed nonfiction book, On Writing, was recently re-released in a tenth anniversary edition. King was the recipient of the 2003 National Book Foundation Medal for Distinguished Contribution to American Letters, and in 2007 he was inducted as a Grand Master of the Mystery Writers of America. He lives in Maine with his wife, novelist Tabitha King.