Journey to the Center of the Earth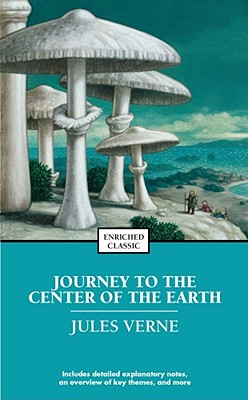 Journey to the Center of the Earth
Pocket Books, Mass Market Paperbound, 9781416561460, 330pp.
Publication Date: May 2008
* Individual store prices may vary.
Buy Now
or
Shop Local
Enter your zip code below to purchase from an indie close to you.
Description
Enriched Classics offer readers accessible editions of great works of literature enhanced by helpful notes and commentary. Each book includes educational tools alongside the text, enabling students and readers alike to gain a deeper and more developed understanding of the writer and their work.
Originally published in French in 1864, "Journey to the Center of the Earth "tells the story of Professor Lidenbrock, his nephew, and a hired guide who, following the instructions of a medieval alchemist claiming to have found a passage to the center of the earth, travel deep into an Icelandic volcano. Deep in the earth, the dangers are beyond imaginable. They traverse subterranean oceans, have encounters with dinosaurs and other prehistoric beasts, and do so all in the spirit of adventure and discovery. Considered a classic in the science-fiction and fantasy genre, Jules Verne's epic novel is an enduring tale of man's desire to uncover the great unknowns of life and nature.
Enriched Classics enhance your engagement by introducing and explaining the historical and cultural significance of the work, the author's personal history, and what impact this book had on subsequent scholarship. Each book includes discussion questions that help clarify and reinforce major themes and reading recommendations for further research.
Read with confidence.
About the Author
Often labeled the "father of science fiction," Jules Verne was less concerned with the gadgets of science than with its effect of people. His fantasies explored the possibilities in a way that excited the imaginations of generations of readers and paved the way for the host of writers that followed in his footsteps.

Heather Wilkinson is Co-Director of the Centre for Research on Families and Relationships and Research Director for the School of Health in Social Science at the University of Edinburgh.