Modern Spice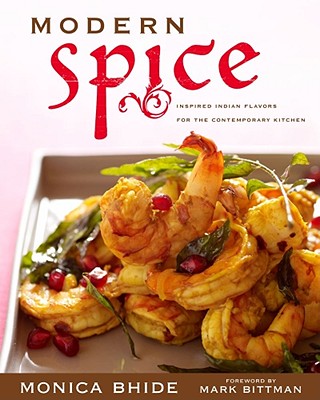 Modern Spice
Inspired Indian Flavors for the Contemporary Kitchen
Simon & Schuster, Hardcover, 9781416566595, 265pp.
Publication Date: April 21, 2009
* Individual store prices may vary.
Buy at Local Store
Enter your zip code below to purchase from an indie close to you.
or
Not Currently Available for Direct Purchase
Description
Born in New Delhi, raised in the Middle East, and living in Washington, D.C., acclaimed food writer Monica Bhide is the perfect representative of the new generation of Indian American cooks who have taken traditional dishes, painstakingly prepared by their Indian mothers and grandmothers, and updated them for modern American lifestyles and tastes. Respectful of the techniques and history of Indian cuisine but eager to experiment, Bhide has written simple but deeply flavorful recipes. Modern Spice takes the vibrant tastes of India into the twenty-first century with a cookbook that is young, fun, sassy, and bold.
Dishes like Pomegranate Shrimp, Paneer and Fig Pizza, and Coriander-and-Fennel-Crusted Lamb Chops are contemporary and creative. Bhide pours Guava Bellinis and Tamaritas for her guests, and serves Chile Pea Puffs and Indian Chicken Wings; instead of Chicken Tikka Masala, she serves Chicken with Mint and Ginger Rub. Make-ahead condiments such as Pineapple Lentil Relish and Kumquat and Mango Chutney with Onion Seeds add a piquant accent to the simplest dish. There are plenty of options for everyday meals, including Butternut Squash Stew with Jaggery, Indian-Style Chili in Bread Bowls, and Crabby Vermicelli, along with plentiful recipes for elegant dishes like Tamarind-Glazed Honey Shrimp and Chicken Breasts Stuffed with Paneer. For an original and effortless finish, spoon Raspberry and Fig Jam Topping over tart frozen yogurt or a store-bought pound cake, or if you have more time, tempt guests with exotic sweets such as Saffron-Cardamom Macaroons or Rice Pudding and Mango Parfait.
As Mark Bittman says in his foreword, "there is not a cuisine that uses spices with more grace and craft than that of India," and Bhide's recipes do so, but without long and daunting lists of exotic ingredients. In keeping with its local approach to global flavors, Modern Spice includes a guide to the modern Indian pantry and Monica's thoughtful, charming essays on food, culture, and family. Eight pages of gorgeous color photographs showcase the recipes.
About the Author
My name is Monica Bhide and I am an engineer turned writer based out of Washington, D.C. My recipes are fun, accessible and tasty. I have been published in major national and international publications, including Food & Wine, The New York Times, Parents, Cooking Light, Prevention, Health, SELF, Bon Appetit, Saveur, and many more. I am a contributing editor to the AARP -The magazine and a frequent contributor to NPR's Kitchen Window. My work has garnered numerous accolades, including my food essays being included in Best Food Writing anthologies (2005, 2009, 2010 and 2014). I have published three cookbooks, the latest being Modern Spice: Inspired Indian recipes for the contemporary Kitchen (Simon & Schuster, 2009). My first work of fiction, The Devil in Us, released in October 2014.

MARK BITTMAN is one of America s beloved, best-known and most widely respected food writers. He covered food policy as an Opinion columnist for The New York Times for 5 years, produced "The Minimalist" column for 13 years, and has starred in several popular television series, including the Emmy-winning Years of Living Dangerously. He recently left the Times to devote his time to cookbooks, teaching at Berkeley, and working on food movement strategy with the Union of Concerned Scientists. He also co-founded Purple Carrot, the national company that delivers weekly vegan meal kits. Bittman has authored more than a dozen cookbooks, including the best-selling How to Cook Everything(r), How to Cook Everything(r) The Basics, How to Cook Everything(r) Vegetarian (all available as apps), How to Cook Everything(r) Fast, Food Matters, and VB6: Eat Vegan Before 6:00. For more information go to markbittman.com.
Praise For Modern Spice…
"At once contemporary and rooted in tradition, sophisticated yet straightforward, creative but comforting, Modern Spice is perfectly suited to the times; it offers new directions, interpretations, and ideas for taking Indian food to the next level. Thanks to enriching personal and informational essays, Modern Spice is also a great read." -- Steven A. Shaw, author of Asian Dining Rules and director of eGullet.org



"Monica Bhide -- a proven expert in all things South Asian -- has compiled a witty and practical guide to Indian-style cooking. Her recipe for curried egg salad is alone worth the price of this book." -- James Oseland, Editor-in-Chief, Saveur, and author of Cradle of Flavor: Home Cooking from the Spice Islands of Indonesia, Malaysia, and Singapore



"For those of us who love Indian food and want to cook it at home, Modern Spice is the cookbook we've been waiting for. Monica Bhide's simple, flavor-packed recipes make this exciting cuisine modern, accessible, and right at home in the American kitchen." -- Victoria von Biel, Executive Editor, Bon Appétit



"Monica Bhide is a mistress of spices who uses them like enchanting spells. Her recipes will take you to distant lands but bring you right back home with their taste and ease!" -- Chef Art Smith, television personality, award-winning chef, and author of Back to the Table



"The real spice in Modern Spice is love! No one writes about food with as much joy as Monica Bhide does. Her passion makes this book's beautiful stories and recipes a pleasure to read." -- José Andrés host of the PBS series, Made in Spain, and author of the companion book Made in Spain



"Monica Bhide...invites you along for a tasty ride in her forthcoming book, Modern Spice....Bhide offers a modern interpretation of Indian flavors and cooking techniques. The result is something cooks need-- new ways of thinking about common ingredients. -- J.M. Hirsch, Associated Press
Thursday, Dec 3, 2009
For many, the enjoyment of a good cookbook isn't the end result, it's the reading itself. And even if they never recreate the perfect Coq au Vin, they keep buying more books. The New Yorker's Adam Gopnik and Modern Spice author Monica Bhide disuss why we love cookbooks. More at NPR.org