American Grace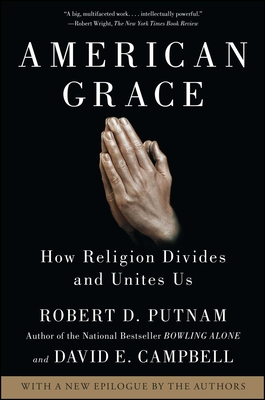 American Grace
How Religion Divides and Unites Us
Simon & Schuster, Paperback, 9781416566731, 707pp.
Publication Date: February 21, 2012
* Individual store prices may vary.
Buy at Local Store
Enter your zip code below to purchase from an indie close to you.
or
Buy Here
Description
"American Grace" is perhaps the most sweeping look yet at contemporary American religion. It lays out the broad trends of the past fifty years, assesses their sociological causes, and then does a bit of fortune-telling ("The Washington Post").
Unique among nations, America is deeply religious, religiously diverse, and remarkably tolerant. In recent decades, however, the nation's religious landscape has undergone several seismic shocks. "American Grace "is an authoritative, fascinating examination of what precipitated these changes and the role that religion plays in contemporary American society.
Although there is growing polarization between religious conservatives and secular liberals today, at the same time personal interfaith ties are strengthening. Interfaith marriage has increased, and religious identities have become more fluid. More people than ever are friendly with someone of a different faith or no faith at all. Putnam and Campbell show how this denser web of personal ties brings greater interfaith tolerance, despite the so-called culture wars.
Based on two of the most comprehensive surveys ever conducted on religion and public life in America (and with a new epilogue based on a third survey), "American Grace "is an indispensable book about American religious life, essential for understanding our nation today.
About the Author
Robert D. Putnam is the Peter and Isabel Malkin Professor of Public Policy at Harvard University. Nationally honored as a leading humanist and a renowned scientist, he has written fourteen books and has consulted for the last four US Presidents. His research program, the Saguaro Seminar, is dedicated to fostering civic engagement in America. Visit RobertDPutnam.com.

David E. Campbell is Professor of Political Science at the University of Notre Dame and the founding director of the Rooney Center for the Study of American Democracy. He is the coauthor (with Robert Putnam) of American Grace: How Religion Divides and Unites Us, which received both the 2011 Woodrow Wilson Award from the American Political Science Association and the Wilbur Award from the Religious Communicators Council for the best nonfiction book of 2010. He is also the author of Why We Vote: How Schools and Communities Shape our Civic Life.


Praise For American Grace…
"American Grace is a monumental work, an elegant narrative built on a solid foundation of massive research. This surprising, absolutely fascinating, and ultimately uplifting portrait of the changing role of religion in American life deserves the widest possible audience. It is a triumph."
—Doris Kearns Goodwin, author of Team of Rivals: The Political Genius of Abraham Lincoln



"Religion is perhaps the most significant but little understood force in American life, and this new book goes a long way toward illuminating how faith affects our politics and our culture. Robert Putnam and David Campbell have produced an original and thought-provoking work."
—Jon Meacham, author of American Gospel: God, the Founding Fathers, and the Making of a Nation



"Perhaps the most sweeping look yet at contemporary American religion."
—Michelle Boorstein, The Washington Post



"American Grace is an instant canonical text. It is indispensable for any grasp of our pluralistic religious culture. And it inspires us to deepen our ecumenical democracy!"
—Cornel West, Center for African American Studies, Princeton University



"This remarkable book does to religion what the Kinsey Report did to sex: document , dissect and assess the role religion—broadly defined to include disbelief and uncertainty—plays in our national experience. Whether you are a fundamentalist or atheist (or anything in-between) this book matters, because religion matters."
—Alan Dershowitz, author of The Genesis Of Justice and The Trials Of Zion



"In American Grace, Robert Putnam and David Campbell analyze survey data and congregational profiles to give us a comprehensive look at religion in our country, and reach conclusions that will provide much thought for reflection. For those interested in the role of religion in society, this is an important book to read. It will be the topic of much discussion."
—Jim Wallis, President of Sojourners and author of God's Politics and Rediscovering Values



"For anyone interested in the role of religion in America's civic life, Robert Putnam and David Campbell's American Grace is a must read. I am confident that their findings from rich case studies and sophisticated analysis of original national surveys will be of great value to academics, politicians, community organizers, religious and non-religious leaders, and American citizens who wonder about why and how religion continues to matter so much in American civic and private life."
—Rev. Theodore M. Hesburgh, CSC, President Emeritus of the University of Notre Dame



"This is the best overview of American religion in the last half century that I have ever read. If you care about American religion, you must read this book."
—Rabbi Eric H. Yoffie, President, Union for Reform Judaism



"A big, multifaceted work. . . . Intellectually powerful."
—Robert Wright, New York Times Book Review