I'm Still Standing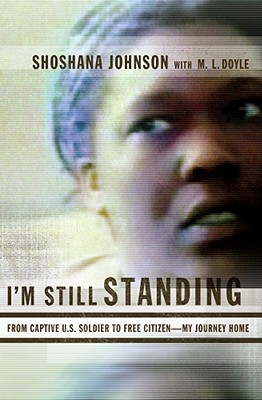 I'm Still Standing
From Captive U.S. Soldier to Free Citizen--My Journey Home
Touchstone, Hardcover, 9781416567486, 288pp.
Publication Date: February 2, 2010
* Individual store prices may vary.
Shop Local
Enter your zip code below to find indies closest to you.
Description
In March of 2003, Operation Iraqi Freedom was only days old when world headlines were rocked by the attack on a U.S. army convoy in Iraq. On March 23rd, during the early march to Baghdad, Shoshana Johnson was wounded in an ambush of her convoy in the city of an-Nasiriyah and taken as a prisoner of war. Several soldiers were killed and five others were taken prisoner. While Jessica Lynch became the face associated with the capture, Shoshana was held for several more weeks. After the headline-making ambush, capture, and rescue, Shoshana returned to the U.S., receiving numerous awards for her valor, including the Bronze Star Medal, Purple Heart Medal, and Prisoner of War Medal. In I'm Still Standing Shoshana writes for the first time about her experience as a prisoner of war, revealing emotions and frustrations that are personal as well as political..
As a speaker, Shoshana's warmth and poise have earned her admirers all over the world. I'm Still Standing reveals the true source of courage behind the story, the full story she couldn't share when she last appeared on The Oprah Winfrey Show and Larry King Live ..
About the Author
Shoshana Nyree Johnson was born in the Republic of Panama and moved to the United States with her family when she was a child. A second-generation Army veteran, she did not plan a career in the military, but became a JROTC cadet in 1991 and joined the U.S. Army in September 1998 while attending classes at the University of Texas at El Paso (UTEP).
On March 23rd, 2003, during Operation Iraqi Freedom, Shoshana was in a convoy that was ambushed in the city of an-Nasiriyah. Wounded, she and five fellow soldiers were captured and taken as prisoners of war, making world news headlines. The POWs were rescued by U.S. Marines on the morning of April 13, and Shoshana returned to the U.S., retiring from the Army on a Temporary Disability Honorable Discharge in December 2003. Her awards and decorations include the Bronze Star Medal, Purple Heart Medal, and the Prisoner of War Medal. U.S. Army officials also identified Shoshana as the first female POW of Operation Iraqi Freedom, and the first black female POW in U.S. war history.
Shoshana lives in El Paso, Texas with her daughter Janelle, her sisters Nikki and Erika, and two nieces.
Praise For I'm Still Standing…
"I'm Still Standing is one hell of a story by one hell of a woman. Soldier. Single mom. Survivor. Shoshana Johnson is a true American hero. Her memoir is a compelling, inspirational read." -- Larry King

"Shoshana Johnson survived ambush, injury, captivity, and colleagues' deaths in the early days of the Iraq conflict with grit, dignity, and reflective grace. In I'm Still Standing, she tells her story with the same moving and admirable qualities." -- Sheila Weller, New York Times bestselling author of Girls Like Us: Carole King, Joni Mitchell , Carly Simon -- and the Journey of a Generation

"I'm Still Standing is Johnson's brutally honest account of the horrors of battle, the deprivations of captivity, and, finally, the sheer jubilation of freedom. What makes Johnson's inspiring tale required reading for Americans, in and out of uniform, is her great heart. Its triumphant beat is felt on every page of this important book." -- Osha Gray Davidson, The Phoenix Sun

"Shoshana Johnson's story is unsettling, scary, powerful, and brilliant -- a story of a life-threatening milestone that must be told to benefit others, both women and men." -- Major General Irene Trowell-Harris, USAF, NC, Retired

"Shoshana Johnson is an American 'shero' whose story of tragedy and survival is an inspiration to many who have served and are serving in the United States Armed Forces. I am honored to have met Shoshana, my fellow veteran, and afforded the opportunity to read her miraculous story." -- Lucretia M. McClenney, COL, USA, Retired

"Johnson endured her captivity with courage and emerged with honor. With the help of former army reservist Doyle, she vividly, simply, and unpretentiously tells her tale." -- Publishers Weekly

" A well-told memoir of captivity and recovery." -- Kirkus Reviews
Sunday, Feb 7, 2010
Shoshana Johnson was one of seven American POWs rescued alive 22 days after the 507th Maintenance Company was ambushed in An Nasiriyah, Iraq, in March of 2003. Her capture made her the first African-American female prisoner of war in U.S. history. Host Liane Hansen talks to Johnson about her new memoir I'm Still Standing: From Captive U.S. Soldier to Free Citizen, My Journey Home. More at NPR.org