Ratio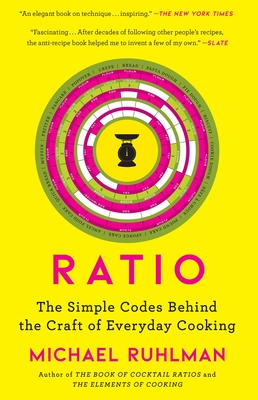 Ratio
The Simple Codes Behind the Craft of Everyday Cooking
Scribner Book Company, Paperback, 9781416571728, 272pp.
Publication Date: September 7, 2010
* Individual store prices may vary.
Buy Now
or
Shop Local
Enter your zip code below to purchase from an indie close to you.
Description
Michael Ruhlman's groundbreaking "New York Times" bestseller takes us to the very truth of cooking: it is not about recipes but rather about basic ratios and fundamental techniques that makes all food come together, simply.
About the Author
Michael Ruhlman is the author of twelve books, including the bestselling "The Making of a Chef" and "The French Laundry Cookbook". He lives in Cleveland with his wife, daughter, and son and is a frequent contributor to "The New York Times" and "Gourmet" as well as his highly popular blog at Ruhlman.com.
Praise For Ratio…
"Cooking, like so many creative endeavors, is defined by relationships. For instance, knowing exactly how much flour to put into a loaf of bread isn't nearly as useful as understanding the relationship between the flour and the water, or fat, or salt . That relationship is defined by a 'ratio,' and having a ratio in hand is like having a secret decoder ring that frees you from the tyranny of recipes.
Professional cooks and bakers guard ratios passionately so it wouldn't surprise me a bit if Michael Ruhlman is forced into hiding like a modern-day Prometheus, who in handing us mortals a power better suited to the gods, has changed the balance of kitchen power forever.
I for one am grateful. I suspect you will be too." -- Alton Brown, author of I'm Just Here for the Food