Infinity's Prism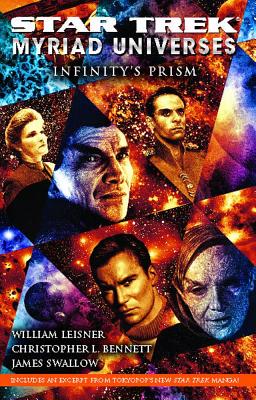 Infinity's Prism
Star Trek, Paperback, 9781416571803, 518pp.
Publication Date: July 1, 2008
* Individual store prices may vary.
Buy Now
or
Shop Local
Enter your zip code below to purchase from an indie close to you.
Description
It's been said that for any event, there are an infinite number of possible outcomes. Our choices determine which outcome will follow, and therefore all possibilities that could happen do happen across countless alternate realities. In these divergent realms, known history is bent, like white light through a prism -- broken into a boundless spectrum of what-might-have-beens. But in those myriad universes, what might have been...is what actually happened.
A Less Perfect Union More than a hundred years after the Terra Prime movement achieved its dream of an isolationist Earth, humanity is once again at a fork in the river of history...and the path it follows may ultimately be determined by the voice of a single individual: the sole surviving crewmember of the first "Starship Enterprise."
Places of Exile Midway through "Voyager"'s journey across the galaxy, Captain Kathryn Janeway and Commander Chakotay must choose whether to brave a deadly war zone or abandon their quest for home. But an attack by Species 8472 cripples the ship, and the stranded crew must make new choices that will reshape their destinies...and that of the Delta Quadrant itself.
Seeds of Dissent Khan victorious Almost four centuries after conquering their world, genetically enhanced humans dominate a ruthless interstellar empire. But the warship "Defiance," under its augmented commander, Princeps Julian Bashir, makes a discovery that could shake the pillars of his proud civilization: an ancient sleeper ship from Earth named the "Botany Bay.
About the Author
William Leisner is the author of the acclaimed novels "Star Trek: The Next Generation: Losing the Peace", and "A Less Perfect Union" (from the "Myriad Universes" collection "Infinity's Prism"). He is a three-time winner of the late, lamented "Star Trek: Strange New Worlds" competition, as contributed tales to the official celebration of "Star Trek"'s 40th anniversary in 2006, and "TNG"'s 20th Anniversary in 2007. A native of Rochester, New York, he currently lives in Minneapolis.

Christopher L. Bennett is a lifelong resident of Cincinnati, Ohio, with bachelor s degrees in physics and history from the University of Cincinnati. He has written critically acclaimed "Star Trek" novels as well as shorter works including stories in anniversary anthologies.Beyond "Star Trek", he has penned the novels "X-Men: Watchers on the Walls" and "Spider-Man: Drowned in Thunder". His original work includes the hard science fiction superhero novel "Only Superhuman", as well as several novelettes in "Analog" and other science fiction magazines. More information and annotations can be found at home.fuse.net/ChristopherLBennett, and the author s blog can be found at ChristopherLBennett.wordpress.com.

James Swallow is a BAFTA-nominated author of three "New York Times" bestsellers, including "Star Trek: The Fall: The Poisoned Chalice", and he remains the only British writer to have worked on a "Star Trek" television show. His fiction includes the "Sundowners" series of original steampunk westerns, the bestselling novelization of "The Butterfly Effect", and stories from the worlds of "24", "Doctor Who", "Warhammer 40,000", and "Stargate". His other credits feature scripts for videogames and audio, including "Deus Ex: Human Revolution", "Disney Infinity", "Fable: The Journey", "Battlestar Galactica", and "Blake s 7". He lives in London.