Food Matters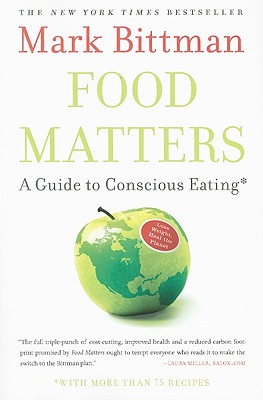 Food Matters
A Guide to Conscious Eating with More Than 75 Recipes
Simon & Schuster, Paperback, 9781416575658, 326pp.
Publication Date: December 29, 2009
* Individual store prices may vary.
Buy Now
or
Shop Local
Enter your zip code below to purchase from an indie close to you.
Description
From the award-winning champion of culinary simplicity who gave us the bestselling "How to Cook Everything" and "How to Cook Everything Vegetarian" comes "Food Matters," a plan for responsible eating that's as good for the planet as it is for your weight and your health.
We are finally starting to acknowledge the threat carbon emissions pose to our ozone layer, but few people have focused on the extent to which our consumption of meat contributes to global warming. Think about it this way: In terms of energy consumption, serving a typical family-of-four steak dinner is the rough equivalent of driving around in an SUV for three hours while leaving all the lights on at home.
Bittman offers a no-nonsense rundown on how government policy, big business marketing, and global economics influence what we choose to put on the table each evening. He demystifies buzzwords like organic, sustainable, and local and offers straightforward, budget-conscious advice that will help you make small changes that will shrink your carbon footprint and your waistline.
Flexible, simple, and non-doctrinaire, the plan is based on hard science but gives you plenty of leeway to tailor your food choices to your lifestyle, schedule, and level of commitment. Bittman, a food writer who loves to eat and eats out frequently, lost thirty-five pounds and saw marked improvement in his blood levels by simply cutting meat and processed foods out of two of his three daily meals. But the simple truth, as he points out, is that as long as you eat more vegetables and whole grains, the result will be better health for you and for the world in which we live.
Unlike most things that are virtuous and healthful, Bittman's plan doesn't involve sacrifice. From Spinach and Sweet Potato Salad with Warm Bacon Dressing to Breakfast Bread Pudding, the recipes in "Food Matters "are flavorful and sophisticated. A month's worth of meal plans shows you how Bittman chooses to eat and offers proof of how satisfying a mindful and responsible diet can be. Cheaper, healthier, and socially sound, "Food Matters" represents the future of American eating.
About the Author
MARK BITTMAN is one of America s beloved, best-known and most widely respected food writers. He covered food policy as an Opinion columnist for The New York Times for 5 years, produced "The Minimalist" column for 13 years, and has starred in several popular television series, including the Emmy-winning Years of Living Dangerously. He recently left the Times to devote his time to cookbooks, teaching at Berkeley, and working on food movement strategy with the Union of Concerned Scientists. He also co-founded Purple Carrot, the national company that delivers weekly vegan meal kits. Bittman has authored more than a dozen cookbooks, including the best-selling How to Cook Everything(r), How to Cook Everything(r) The Basics, How to Cook Everything(r) Vegetarian (all available as apps), How to Cook Everything(r) Fast, Food Matters, and VB6: Eat Vegan Before 6:00. For more information go to markbittman.com.