Mark Bittman's Kitchen Express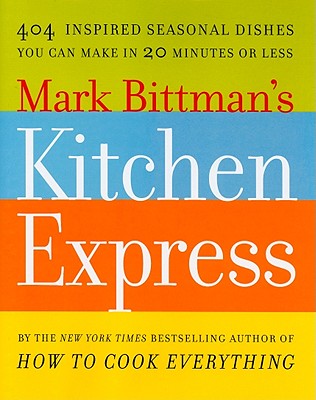 Mark Bittman's Kitchen Express
404 Inspired Seasonal Dishes You Can Make in 20 Minutes or Less
Simon & Schuster, Hardcover, 9781416575665, 233pp.
Publication Date: July 7, 2009
* Individual store prices may vary.
Buy Now
or
Shop Local
Enter your zip code below to purchase from an indie close to you.
Description
101 super-quick and ultra-easy recipes for each of the four seasons--totaling a whopping 404 recipes--from award-winning cookbook author and popular "New York Times" columnist Mark Bittman.
- A celebrated author with a huge following: The author of the perennial bestseller "How to Cook Everything," mark Bittman is known across the country as "The minimalist." His more than two million readers eagerly follow his weekly recipes and accompanying instructional online videos from "The New York Times." His popular thirteen-part PBS series was named the Best National Cooking Series of 2005 by the prestigious James Beard Foundation.
- An easy, breezy read for busy cooks: 404 Express gives readers 101 quick recipes for each season, all of which can be prepared in ten minutes or less. For people who like to eat well without the fuss, mark Bittman offers his trademark pared-down elegance and contemporary style. Like his New York Times column, each recipe is presented with just a sentence or two and requires but a few ingredients. From seafood to pasta dishes, vegetarian specialties and desserts, Bittman covers every flavor for every season.
- Capitalizes on the "seasonal" food craze: With concerns about the environment, today more than ever, Americans are keen on cooking and eating seasonally. Each of the 404 recipes in this book make it easy for readers to choose meals made from fresh foods produced on local farms.
About the Author
Mark Bittman is one of America s best-known and most widely respected food writers. He covers food policy, cooking, and eating as an Opinion columnist for The New York Times and the paper s Sunday Magazine. He produced "The Minimalist" column for 13 years and has starred in several popular Public Television cooking series. Now a frequent public speaker, he appears regularly on the Today Show and is a guest on a wide range of television and radio shows. Bittman has authored more than a dozen cookbooks, including How to Cook Everything(r) The Basics, How to Cook Everything(r), How to Cook Everything(r) Vegetarian (all available as apps), Food Matters and The Food Matters Cookbook, and the new VB6: Eat Vegan Before 6:00. For more information go to markbittman.com.
Praise For Mark Bittman's Kitchen Express…
"I'd buy any cookbook Bittman wrote."
—The Miami Herald

"This is a man who loves food in the most unstuffy way possible."
—The Chicago Tribune