True You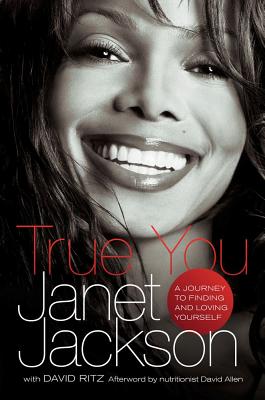 True You
A Journey to Finding and Loving Yourself
Gallery Books/Karen Hunter Publishing, Hardcover, 9781416587248, 258pp.
Publication Date: February 15, 2011
* Individual store prices may vary.
Shop Local
Enter your zip code below to find indies closest to you.
Description
ONE OF THE GREATEST ENTERTAINERS OF OUR TIME CANDIDLY REVEALS HER VERY PERSONAL STRUGGLE WITH AN ISSUE SO MANY OF US FACE EVERY DAY: SELF-ESTEEM



Janet Jackson emerged from the shadows of an already famous family to become one of the most beloved, recognizable, and influential performers in the world. But at what cost?



From the age of ten, when she made her acting debut on Good Times, Janet was told by Hollywood that she needed to slim down. Her well-meaning brothers, especially fun-loving Michael, teased her relentlessly until she began to believe that who she was wasn't good enough. It was an idea that no amount of critical acclaim in television and film or, later, international platinum success in music could change.



Janet turned to food for comfort and escape. She developed a self-destructive pattern familiar to so many of us: fear and uncertainty led to bad feelings about herself and ultimately depression. The depression led to overeating. And her yo-yoing weight was painfully obvious in the bright lights of the entertainment world.



It has taken Janet most of her adult life to come to terms with who she is. But she has finally broken free of the attitudes that brought her down and has embraced realistic goals that help her eat better, exercise better, feel better, and ultimately be better.



This book is about meeting those challenges that face all of us. With candor and courage, Janet shares her painful journey to loving herself. She addresses the crazy rumors that have swirled around her for most of her life, shines an intimate light on her family, and pulls us behind the velvet rope into her unforgettable career. She also shares lessons she has learned through contact with friends and fans and reveals the fitness secrets she has learned from her trainer. Finally, her nutritionist, David Allen, unveils the wholesome, delicious recipes and lifestyle-changing tips that helped Janet get in shape—mind and spirit, heart and soul.



True You is a call to tune in to your own fundamental wisdom, to let go of the ugly comparisons, and to understand that who you are, the true you, is more than enough.

***

"I'm loved, I'm valued, and I'm capable of achieving balance in my life. I can learn to eat well. I can exercise. I can express gratitude for the simple act of being able to breathe in and breathe out. I can move away from darkness and depression to light and hope. I can be happy with who I am, not what I should be, or what I might have been, or what someone tells me I must be.



I am me, the true me; you are you, the true you—and that's good. That's beautiful. That's enough."

 

—JANET JACKSON
About the Author
Janet Jackson is a five-time Grammy Award-winning international superstar. One of the bestselling pop artist in history, she is known ofer her innovative music, choreography, and social conscious lyrics.  The youngest member of the famous Jackson family, she began her career as a television actress and most recently appeared in Tyler Perry's film, "For Colored Girls."

David Ritz is the author of the acclaimed novels The Man Who Brought the Dodgers Back to Brooklyn and Blue Notes Under a Green Felt Hat. He is the only four-time winner of the Gleason Book of the Year Award. He's also co-written the memoirs of many celebrities.

David Allen, CBE, M Phil, FCMA, JdipMA, FCIS, FRSA, is Chairman of Strategic Financial Management Ltd. He is a past president of the Chartered Institute of Management Accountants, and a past chairman of the Financial and Management Accounting Committee of the International Federation of Accountants.