10-10-10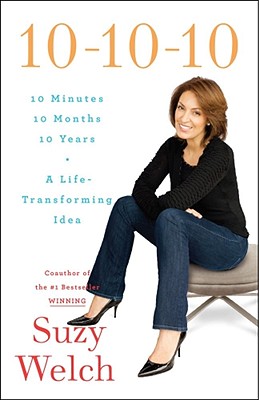 10-10-10
A Life-Transforming Idea
Scribner, Hardcover, 9781416591825, 240pp.
Publication Date: April 14, 2009
* Individual store prices may vary.
Buy at Local Store
Enter your zip code below to purchase from an indie close to you.
or
Not Currently Available for Direct Purchase
Description
Any choice you make -
any decision -
will benefit from
10-10-10.
We all want to lead a life of our own making. But in today's accelerated world, with its competing priorities, information overload, and confounding options, we can easily find ourselves steered by impulse, stress, or expedience. Are our decisions the right ones? Or are we being governed, time and time again, and against our best intentions, by the demands of the moment?
A transformative new approach to decision making, 10-10-10 is a tool for reclaiming your life at home, in love, and at work. The process is clear, straightforward, and transparent. In fact, when you're facing a dilemma, all it takes to begin are three questions: What are the consequences of my decision in 10 minutes?
In 10 months? And in 10 years?
Sound simple? Not quite. Recounting poignant stories from her own life and the lives of many other dedicated 10-10-10 users, Suzy Welch reveals how exploring the impact of our decisions in multiple time frames invariably surfaces our unconscious agendas, fears, needs, and desires -- and ultimately helps us identify and live according to our deepest goals and values.
10-10-10's applicability is uniquely broad. Whether it is used by college students or busy mothers or senior business executives, artists, government administrators, or entrepreneurs, 10-10-10 has shown its effectiveness in decisions large and small, routine and radical, consistently changing lives for the better.
Readers of O magazine discovered this pragmatic and innovative idea when Suzy Welch first introduced it in her column. Now, in this immensely useful and revelatory book, she fully explains the power of 10-10-10, a transformative idea that can replace chaos with consistency, guilt with joy, and confusion with clarity.
About the Author
Suzy Welch, former editor-in-chief of the Harvard Business Review, is a work-life columnist for O The Oprah Magazine. She is the coauthor, with her husband Jack Welch, of the New York Times bestseller Winning and of "The Welch Way," published in BusinessWeek magazine and internationally by the New York Times Syndicate. She lives in Boston.
Suzy Welch es una destacada periodista, autora y oradora. Es columnista en temas de trabajo y vida para la revista O, The Oprah Magazine y colaboradora de O's Big Book of Happiness (El gran libro de la felicidad de O) y ejerce como Ejecutiva Residente en el Centro de Liderazgo de Mujeres de Babson College. Suzy, madre de cuatro adolescentes, es ex editora de Harvard Business Review, y co-autora, con su esposo, Jack Welch, del libro Winning, que ocupÓ el primer lugar entre los libros mÁs vendidos. La columna de ambos, "The Welch Way," (El sistema Welch) se publica nacionalmente en la revista BusinessWeek y se distribuye internacionalmente por la agencia periodÍstica New York Times Syndicate.
www.suzywelch101010.com