The Black Male Handbook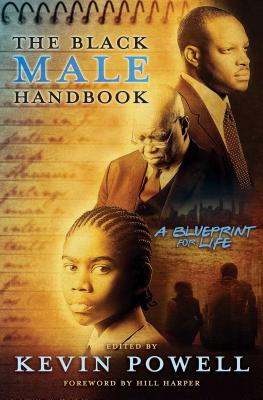 The Black Male Handbook
A Blueprint for Life
Atria Books, Paperback, 9781416592242, 244pp.
Publication Date: September 9, 2008
* Individual store prices may vary.
Buy Now
or
Shop Local
Enter your zip code below to purchase from an indie close to you.
Description
Author and activist Kevin Powell and contributors Lasana Omar Hotep, Jeff Johnson, Byron Hurt, Dr. William Jelani Cobb, Ryan Mack, Kendrick B. Nathaniel, and Dr. Andre L. Brown tap into the social and political climate rising in the African American community with this collection of essays for Black males on surviving, living, and winning.
"The Black Male Handbook" answers a collective hunger for new direction, fresh solutions to old problems, and a different kind of conversation man-to-man and with Black male voices, all of the hip hop generation. The book tackles issues related to political, practical, cultural, and spiritual matters, and ending violence against women and girls.
The book also features an appendix filled with useful readings, advice, and resources. "The Black Male Handbook" is a blueprint for those aspiring to thrive against the odds in America today.
This is a must-have book, not only for Black male readers, but the women who befriend, parent, partner, and love them.
About the Author
Kevin Powell, a native of Jersey City, New Jersey, is the author or editor of eleven previous books. He is a native of Jersey City, New Jersey. Thanks to a college financial aid package, he studied at Rutgers University and has gone on to write for publications such as "The Huffington Post", CNN.com, "Esquire", "Rolling Stone", the" Washington Post", "Vib"e", "and the" Guardian". He is also the president and cofounder of BK Nation, an American organization focused on civil rights, human rights, and equal opportunities for all people. Powell is a proud long-time resident of Brooklyn, New York. Visit www.KevinPowell.net and www.BKNation.org.

Enitan Bereola II has taken the classic concept of manners and made it tasteful, again! He penned the award-winning & best-selling books: BEREOLAESQUE: The Contemporary Gentleman & Etiquette book for the Urban Sophisticate and GENTLEWOMAN: Etiquette for a Lady, from a Gentleman. As a celebrity ghostwriter, speaker, etiquette impresario, Beverly Hill's relationship advice columnist, Soul Train columnist and Essence Magazine relationship advice contributor, his voice reaches generations. The author won a BC Award for "Greatness in Literature" and "Man of the Year" Award from SHADES Wedding Magazine. Bereola was selected as one of BLACK ENTERPRISE Magazine's Young & Bold Business Leaders. He's exercised etiquette on FOX News and dished dating advice to NBC Niteside, BET, TV One and MTV. His writings are discussed on nationally syndicated radio and he's been featured on the national covers of Equanimity, American Dreaming & Shades magazine as well as the front page of Detroit's Front Page Paper. He's featured in Sister 2 Sister magazine, Naija Times in Nigeria & several other notable publications. His brand garners the interest of celebrities and pop-culture alike. He's paired up with Beats By Dre's "Show Your Color" campaign to spread his gentleman message as well as Jay-Z and Steve Stoute's Translation, LLC advertising & marketing company. Mr. Bereola produced an international soundtrack to his book entitled, "Seat 1-A and produced the short film, "This Time" which debuted at film festivals around the country. Mr. Bereola has been a keynote speaker at over 50 colleges & universities. He's been invited to speak at Harvard, Stanford, Tufts & several other institutions. Bermuda College & Kansas State made his first book a required part of their curriculum. Enitan finds solace in giving back. He partnered with the Alice E. Foster Scholarship Program to sponsor scholarships for high school graduates exiting the foster care system. He is also partnered with Autism Speaks through American Dreaming Magazine who donates 100% of profits from POP displays at retailers. The author adopted his former high school - Piedmont Hills, to contribute 20% of his Barnes & Noble book sales to help fund student programs. Recently, he partnered with the Crohn's and Colitis Foundation of America to help their mission to fund research and programs. Enitan attended Florida A&M University and is currently touring the U.S. & abroad.