Italian, My Way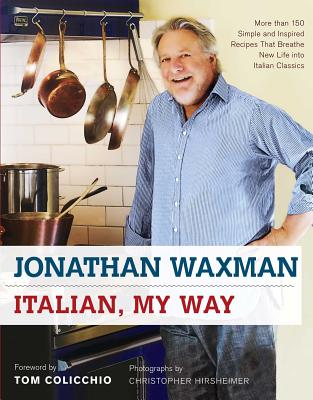 Italian, My Way
More Than 150 Simple and Inspired Recipes That Breathe New Life Into Italian Classics
Simon & Schuster, Hardcover, 9781416594314, 286pp.
Publication Date: April 5, 2011
* Individual store prices may vary.
Buy at Local Store
Enter your zip code below to purchase from an indie close to you.
or
Buy Here
Description
Simple. Seasonal. Inspired.
A father of New American cuisine and mentor to chefs like Bobby Flay, Jonathan Waxman introduced a new generation to the pleasures of casual food by shining a spotlight on seasonal produce. Now, in "Italian, My Way, "he shares the spontaneous and earthy dishes that made him a "Top Chef "Master and culinary legend, and turned his restaurant Barbuto into a New York destination.
Waxman's rustic Italian food is accessible, delicious, and a joy to prepare. It's food you cook for friends and family with music in the background and a glass of wine in hand fresh ravioli with pumpkin and sage, chicken "al forno "with "salsa verde, "a blueberry crisp.
"Italian, My Way "gives you the confidence to transform simple ingredients into culinary revelations and create bold and robust flavor without a lot of fuss. You ll make the perfect blistered-crust pizza and spaghetti "alla carbonara, "the creamiest risotto with sweet peas and Parmesan, and an unforgettable grilled hanger steak with "salsa piccante."
Waxman breaks down the culinary lessons of Italy into plain English, helping you sweat less in the kitchen and enjoy cooking more. After all, simpler recipes mean less time planning meals and more time enjoying them. As chef Tom Colicchio writes in his foreword, This is food that is "meant "to be made in your home. Cook it with love and for your family and friends. That's Italian, Jonathan's way.
About the Author
Jonathan Waxman first stepped into the culinary scene in 1970 when he retired from his career as a professional trombonist to enroll in the La Varenne cooking school in Paris. After working at the prestigious Chez Panisse alongside Alice Waters, he brought New American cuisine to New York City by opening the restaurants Jams and Washington Park. For his contributions to the culinary world, Jonathan was named one the most influential Americans by "Esquire" magazine. Today, he is the chef-owner of Barbuto, an Italian brasserie in New York City. He resides in Manhattan with his wife and three children.

Christopher Hirsheimer is an award-winning photographer and cofounder of Canal House. Her experience includes establishing a publishing venture, running a culinary and design studio, and publishing an annual series of three seasonal cookbooks titled "Canal House Cooking". Prior to starting Canal House in 2007, in Lambertville, New Jersey, Hirsheimer was the executive editor of "Saveur", which she cofounded in 1994, and the food and design editor of "Metropolitan Home". She cowrote the award-winning "Saveur Cooks" series and "The San Francisco Ferry Plaza Farmers' Market Cookbook". Her photographs have appeared in more than 50 cookbooks for such notables as Lidia Bastianich, Mario Batali, Julia Child, Jacques Pepin, and Alice Waters, and in numerous magazines, including "Bon Appetit, Food & Wine, InStyle", and "Town&Country".

TOM COLICCHIO is the chef/co-owner of New York's celebrated Gramercy Tavern, ranked New Yorkers' #1 favorite restaurant in the 2003 Zagat Survey, as well as chef/owner of Craft, the 2002 James Beard Best New Restaurant in America. Tom also received the 2000 James Beard Award for Best Chef in New York City, and a James Beard award for Best General Cookbook in 2001 for his first book, Think Like a Chef. In 2002 Colicchio opened Craftbar, a casual adjunct to Craft, CraftSteak in Las Vegas' MGM Grand Hotel, and introduced CraftKitchen, a line of olive oils and condiments imported from Calabria, Italy. In 2003, Colicchio opened 'wichcraft, next door to Craftbar in New York's Flatiron district, bringing Craft's ethic of simplicity and great ingredients to the ever-popular sandwich. He is married to a New York writer/filmmaker and is the father of 10-year-old Dante, who is a big fan of his father's veal-ricotta meatballs.
Praise For Italian, My Way…
"Nobody does simple and seasonal better than Jonathan Waxman. His new book is full of recipes that not only teach Italian cooking, but simplicity itself. Way to go, big boy."
—Jamie Oliver



"Jonathan Waxman has been at the forefront of modern American cooking for decades, and has always prepared delicious food in an exquisitely simple and straightforward way. At Barbuto, he has redefined simple Italian food, and he continues to raise the bar of poetic tastiness for me and every chef I know. This book makes me want to share the beauty of magnificent, simple, perfect food with Jonathan, our families, and our best pals."
—Mario Batali



"Jonathan cooks the food I want to eat. He is one of the great cooks I know."
—Alice Waters



"My number one mentor."
—Bobby Flay



"Jonathan understands food on a level that captures the soul of cuisine. Italian cuisine is about great ingredients and honest treatment. He makes that clear in this love affair with great food."
—Rick Moonen, Top Chef Master and author of Fish Without a Doubt



"Jonathan Waxman is immune to culinary fad and fashion and brings an old souls understanding of food tradition and core values to his work. He is also quite possibly the best natural, instinctual cook I know."
—Colman Andrews



"Jonathan's book inspires me to spend more time in the kitchen. He's such an amazing chef, I would eat this book."
—Caleb Followill, Kings of Leon singer and guitarist



"Jonathan Waxman is a chef's chef, and he is frequently my chef because Barbuto, his restaurant, is the place I go for my favorite food. Jonathan is not only a master cook, he is a world class communicator. In Italian, My Way, Jonathan takes the mystery and complexity out of Italian cooking."
—Charlie Rose