The Christmas Sweater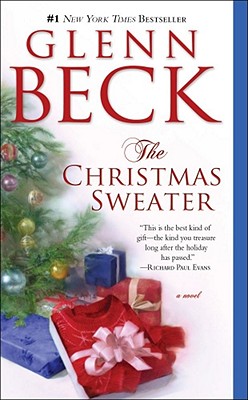 The Christmas Sweater
Pocket Star, Mass Market Paperbound, 9781416595007, 304pp.
Publication Date: October 26, 2010
* Individual store prices may vary.
Buy at Local Store
Enter your zip code below to purchase from an indie close to you.
or
Buy Here
Description
Based on a deeply personal true story, Glenn Beck's bittersweet tale of boyhood memories, wrenching life lessons, and the true meaning of the giving season has touched the hearts of readers everywhere.
"
If you could change your life by reversing your biggest regrets, sorrows, and mistakes . . . would you?
"
When Eddie was twelve years old, all he wanted for Christmas was a bike. He knew money had been tight since his father died, but Eddie dreamed that "somehow "his mother would find a way to afford that dream bike.
What he got from her instead was a sweater. " A stupid, handmade, ugly sweater "that young Eddie left in a crumpled ball in the corner of his room.
Scarred deeply by the fateful events that transpired that day, Eddie begins a dark and painful journey toward manhood. It will take wrestling with himself, his faith, and his family and the guidance of a mysterious neighbor named Russell to help Eddie find his life's path and finally understand the significance of that simple gift his mother had crafted with love.
About the Author
Glenn Beck, the nationally syndicated radio host and founder of TheBlaze television network, is a thirteen-time #1 bestselling author and is one of the few authors in history to have had #1 national bestsellers in the fiction, nonfiction, self-help, and children s picture book genres. His recent fiction works include the thrillers "Agenda 21", "The Overton Window", and its sequel, "The Eye of Moloch"; his many nonfiction titles include "Conform", "Miracles and Massacres", "Control", and "Being George Washington". For more information about Glenn Beck, his books, and TheBlaze TV network, visit GlennBeck.com and TheBlaze.com.



Jason Wright is a keen hydroponics gardener and has used many different systems over the years in his search to find what suits him best or alternatively the types of plants he is growing at any given time. Jason is keen to share his knowledge so that other keen gardeners can experience and learn the benefits of growing fresh vegetables, fruit, herbs and flowers with a hydroponic system. Don't forget to go visit the Amazon Author Page for Kaye Dennan, Chief Publisher at InfoEbooksOnline.com, where you will find more books on gardening, home based business and children's short stories.