Bury Me Deep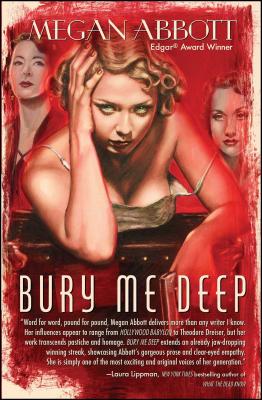 Bury Me Deep
Simon & Schuster, Paperback, 9781416599098, 240pp.
Publication Date: July 7, 2009
* Individual store prices may vary.
Buy Now
or
Shop Local
Enter your zip code below to purchase from an indie close to you.
Description
By the author of Dare Me and The End of Everything

In October 1931, a station agent found two large trunks abandoned in Los Angeles
About the Author
Megan E. Abbott is Assistant Professor of English at State University of New York-Oswego.

Praise For Bury Me Deep…
"Word for word, pound for pound, Megan Abbott delivers more than any writer I know. Her influences appear to range from Hollywood Babylon to Theodore Dreiser, but her work transcends pastiche and homage. Bury Me Deep extends an already jaw-dropping winning streak, showcasing Abbott's gorgeous prose and clear-eyed empathy. She is simply one of the most exciting and original voices of her generation."
-- Laura Lippman, New York Times bestselling author of What the Dead Know

"Working once more...from a true crime... Edgar-winner Abbott brings the era to life...Her nearly stream-of-consciousness narration is direct and powerful...her prose carries an urgency that brings hard-boiled crime fiction kicking and screaming into the modern age. Abbott takes readers on a wild thrill ride with an utterly believable and strangely sympathetic heroine."
-- Kirkus, Starred Review

"In [Bury Me Deep] Abbott turns the stuff of sensational confession magazines into a rich meditation on the unclouded depths of the soul."
-- Carl Rosen, New York magazine


"[F]abulous characters, delectable plotting, a unique story and a steamy yet gossamer setting....A stunning work of fiction, it is Abbott's love for her central character that makes Bury Me Deep so accessible and so far away at the same time. Imagine Hammett wrote Daisy Buchanan and not Fitzgerald. And you are Gatsby... so close and yet so far away. This is Bury Me Deep."
-- Ruth Jordan, Crimespree

"Edgar-winner Abbott...explores gender inequality and its sometimes tragic results in her well-crafted fourth crime novel...that leads to murder and a startling predicament...Readers should be prepared for...a shocking ending."
-- Publishers Weekly

"[S]omething for everyone: true crime (it's based on a notorious 1930s trunk murderess' case), plus it's a women's story with noir embellishments. It has tough times, drugs, and pandemics. It screams 'today!' -- only retro. Done in that rat-a-tat delivery that...can't miss. Recommended heartily for fans of Edgar Award-winning Abbott's retro-noir crime fiction."
-- Library Journal

"In a word: amazing. In more words: Megan Abbott, who has never delivered anything less than an excellent novel, exceeds expectations and takes a very bold and very necessary step forward both in the quality of the prose, the development of her characters and especially in portraying how obsession seeps into the very soul of people, transforming them into their worst nightmares all too easily. Just read this book. And then tell many others to do so as well."
-- Confessions of an Idiosyncratic Mind

"Megan Abbott's virtuoso fiction [is comparable] to the great James M. Cain....Bury Me Deep is literary fiction that happens to include a crime...beautifully wrought...[Abbott is] an author destined to be a leading writer of her generation."
-- W.E. Reinka, Mystery News, FIVE STARS


"[A] cunningly fictionalized...exquisite book, told in delicate, shimmering prose that heightens the nightmarish quality of the story. Megan Abbott is often compared with James Ellroy...but her writing is far more economical and focused, and her sensibilities are feminine to the core. This is noir mystery writing at its very best."
-- Tom and Enid Schantz, The Denver Post