The Tempest Tales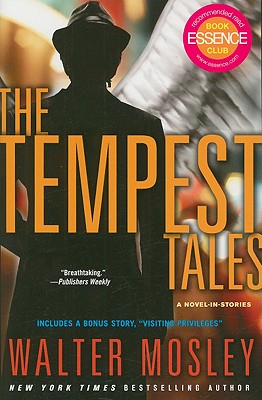 The Tempest Tales
Washington Square Press, Paperback, 9781416599494, 186pp.
Publication Date: June 9, 2009
* Individual store prices may vary.
Buy at Local Store
Enter your zip code below to purchase from an indie close to you.
or
Buy Here
Description
From the acclaimed bestselling author of the "Easy Rawlins "series who has been deemed one of America's best mystery writers ("The New York Times Book Review") comes a tale about a murdered man who does not want to go to heaven or hell he d rather have his old life in Harlem.
Tempest Landry is neither a good nor a bad man, but an average man trying to survive. Sure, he stole money from his mother's church, but he used it to pay for his aunt's groceries while she was recovering from pneumonia. And yes, Tiny Henderson went to jail because of Tempest's white lie, but the brutal rapist and murderer deserved it. After a cop accidentally kills Tempest, Tempest is denied access to heaven for his sins. But he brazenly refuses St. Peter's command to proceed to hell he would just as soon settle for his old life in Harlem. Temporarily stymied, St. Peter grants Tempest his wish but in a different body and with a guardian angel following him around who is determined to convert him to righteousness. But the devil is also in the running for Tempest's soul and he wants it in a bad way. In this episodic and humorous homage to Langston Hughes prescient narrator Jess B. Simple, readers are lured into the never-ending debate on the nature of good and evil. The Tempest Tales explores the provoking questions: Is sin the same for people of different races? Is sin judged the same for the poor as it is for the rich? And ultimately, who really gets to decide?
About the Author
Walter Mosley is the "New York Times" bestselling author of five Easy Rawlins mysteries: "Devil in A Blue Dress", "A Red Death", "White Butterfly", "Black Betty, " and "A Little Yellow Dog"; three non-mystery novels, "Blue Light", "Gone Fishin'", and "R. L.'s Dream"; two collections of stories featuring Socrates Fortlow, "Always Outnumbered, Always Outgunned", for which he received the Anisfield Wolf Award, and which was an HBO movie; and a nonfiction book, "Workin' On The Chain Gang". Mosley is also the author of the Leonid McGill, and Fearless Jones mystery series, "The Tempest Tales" and "Six Easy Pieces". He is a former president of the Mystery Writers of America, a founder of the PEN American Center Open Book Committee, and is on the board of directors of the National Book Awards. A native of Los Angeles, he now lives in New York City.