Zero Decibels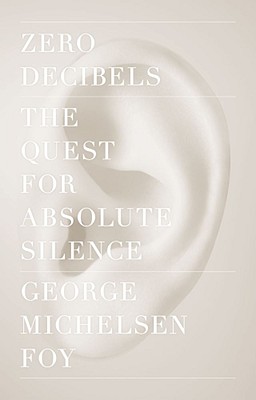 Zero Decibels
The Quest for Absolute Silence
Scribner Book Company, Hardcover, 9781416599593, 196pp.
Publication Date: May 18, 2010
* Individual store prices may vary.
Buy at Local Store
Enter your zip code below to purchase from an indie close to you.
or
Not Currently Available for Direct Purchase
Description
Have our noise-soaked lives driven us mad? And is absolute silence an impossible goal or the one thing that can save us? A lively tale of one man's quest to find the grail of total quiet.---
I don t know at what point noise became intolerable for me, George Michelsen Foy writes as he recalls standing on a subway platform in Manhattan, hands clamped firmly over his ears, face contorted in pain. But only then does Foy realize how overwhelmed he is by the city's noise and vow to seek out absolute silence, if such an absence of sound can be discovered.
Foy begins his quest by carrying a pocket-sized decibel meter to measure sound levels in the areas he frequents most the subway, the local cafe, different rooms of his apartment as well as the places he visits that inform his search, including the Parisian catacombs, Joseph Pulitzer's silent vault, the snowy expanses of the Berkshires, and a giant nickel mine in Canada, where he travels more than a mile underground to escape all human-made sound. Along the way, Foy experiments with noise-canceling headphones, floatation tanks, and silent meditation before he finally tackles a Minnesota laboratory's anechoic chamber that the "Guinness Book of World Records "calls the quietest place on earth, and where no one has ever endured even forty-five minutes alone in its pitch-black interior before finding the silence intolerable.
Drawing on history, science, journalistic reportage, philosophy, religion, and personal memory, as well as conversations with experts in various fields whom he meets during his odyssey, Foy finds answers to his questions: How does one define silence? Did human beings ever experience silence in their early history? What is the relationship between noise and space? What are the implications of silence and our need for it physically, mentally, emotionally, politically? Does absolute silence
actually exist? If so, do we really want to hear it? And if we do hear it, what does it mean to us?
According to the Environmental Protection Agency, 30 million Americans suffer from environment-related deafness in today's digital age of pervasive sound and sensory overload. Roughly the same number suffer from tinnitus, a condition, also environmentally related, that makes silence impossible in even the quietest places. Inthis respect, Foy's quest for silence represents more than a simple psychological inquiry; both his queries and his findings help to answer the question How can we live saner, healthier lives today?
Innovative, perceptive, and delightfully written, "Zero Decibels "will surely change how we perceive and appreciate the soundscape of our lives.
About the Author
GEORGE MICHELSEN FOY is the author of" Zero Decibels: The Quest for Absolute Silence", and twelve critically acclaimed novels. He is the recipient of a National Endowment of the Art fellowship in fiction. His novel "Art & Practice of Explosion" came second in Foreword magazine's 2001 Novel of the Year contest, and"The Shift" was a finalist for the Philip K. Dick prize. His articles, reviews, and stories have been published by "Rolling Stone, The Boston Globe, Harper's, The New York Times, " and "Men's Journal, " among others, and has been an investigative reporter, writer, and/or editor for "BusinessWeek, The International Herald Tribune, "and "The Cape Cod Register". He was educated at the Sorbonne, the London School of Economics and Political Science, and Bennington College. He teaches creative writing at New York University. He is married with two children, and divides his time between coastal Massachusetts and New York.
Praise For Zero Decibels…
"George Foy has written the perfect antidote for our increasingly noisy age. Zero Decibels is meditative, witty, lyrical, and fascinating. Every page is a revelation."
—Alan Burdick, author of Out of Eden: An Odyssey of Ecological Invasion



"As questing beasts go, silence proves to be as elusive as an aural unicorn in a dense thorny forest of attention-shredding noise. That a writer such as George Michelson Foy should apply his immense brain power and obsessive investigative skills to stalking this intriguing prey is a surprise and a pure delight. The result is a lively, elegantly written examination of nothing no less than our existence, as it pours into, and out of, our humble ears. The art and science of hearing has found its poet laureate."—Bob Shacochis, author of Easy in the Islands and The Immaculate Invasion



"Zero Decibels is the result of George Foy's year-long and personal quest for silence. A passionate and provocative study, it should be on everyone's must-read list."—Anne D. LeClaire, author of Listening Below the Noise: The Transformative Power of Silence



"A compelling, lyrical exploration of an increasingly rare and elusive place: silence. Foy employs every means that modernity offers both to measure the pervasiveness and power of noise in modern life and to escape it. The results of his journey offer us not just a deeper appreciation of silence but, more surprisingly, of sound."—Charles Siebert, author of The Wauchula Woods Accord
Monday, May 31, 2010
George Michelson Foy stood on the platform of a New York City subway station, battered by the noise of trains, crowds and traffic. Suddenly, he couldn't take another minute of the din. Zero Decibels is the story of Foy's search for absolute silence. More at NPR.org