Gumption!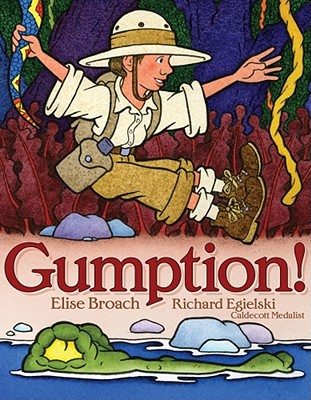 Gumption!
Atheneum Books, Hardcover, 9781416916284, 40pp.
Publication Date: April 6, 2010
* Individual store prices may vary.
Buy at Local Store
Enter your zip code below to purchase from an indie close to you.
or
Not Currently Available for Direct Purchase
Description
Peter's been invited to go on a safari. He's brought: 1. Uncle Nigel, who's an explorer 2. hiking shorts 3. a canteen But what he will need most is a bit of gumption. (Gumption: n. Courage; spunk; fortitude; resourcefulness; good sense.) Oh, wait...there are crocodiles in the river? Then he might need a lot of it.
Praise For Gumption!…
Peter's Uncle Nigel, explorer by trade, knows how to show his nephew a good time. When next he sets off to Africa to find the Zimbobo Mountain Gorilla, young Peter is right by his side. There are lots of dangers lurking in the wild, however, and whenever Peter calls upon his uncle for help he's met with a jolly, "Nonsense, my boy! All it takes is a bit of gumption." Peter soon finds his way, swinging on pythons, leaping on crocs and even catching a ride on the back of the gorilla itself, while his oblivious uncle charges onward. Broach fills this spunky story with delicious language, including words like "zonked" and "dung." Egielski is in fine form, his boldly outlined watercolors fairly luminous and bursting with life. Readers who keep their eyes open wider than Uncle Nigel will also discover a host of delicate details hidden within the images. Altogether a hearty delight for any young adventurer with a drop or two of gumption. (Picture book. 4-8) -- KIRKUS, March 15, 2010



When Peter's favorite Uncle Nigel takes him on an expedition to Africa, their first goal is to see a "Zimbobo Mountain Gorilla." As Peter struggles during their five-mile hike, good-natured Uncle Nigel insists that he can do it, telling him, "All it takes is a bit of gumption." The book's humor is provided by Egielski's (The Fabulous Feud of Gilbert and Sullivan) expert watercolors that show Uncle Nigel's upbeat obliviousness while Peter gets a helping hand from some wild animals in nearly wordless four-panel scenes (a snake, elephant, and one of the rare gorillas help him negotiate the terrain, and later Peter rescues his uncle from an alligator). Throughout, Uncle Nigel is totally unaware of the danger. Broach (When Dinosaurs Came with Everything) plays with the familiar British explorer stereotype (Uncle Nigel gets plenty of lines like "Jolly good, Peter!" and "I say! Elephant dung!"), and Egielski's twig-bordered paintings have a Teddy Roosevelt adventurousness that will keep readers giggling at how hapless some grownups—and how resourceful some children—can be. Ages 4–8. March 8, 2010 - Publishers Weekly