The Scarecrow's Dance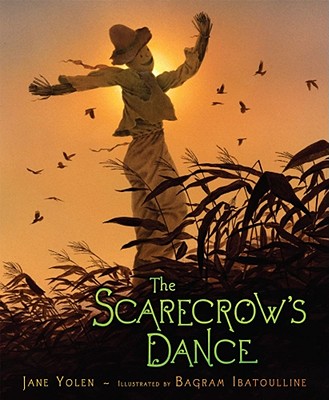 The Scarecrow's Dance
Simon & Schuster Children's Publishing, Hardcover, 9781416937708, 32pp.
Publication Date: August 25, 2009
* Individual store prices may vary.
Shop Local
Enter your zip code below to find indies closest to you.
Description
Jane Yolen introduces us to the fickle scarecrow, who decides to leave his station and dance away the fall night. He leaps through the fields until he reaches the farmhouse, where he sees a small light in the window. Inside, a boy is saying his prayers, and he offers up a special prayer for the corn that will be harvested in the morning. Humbled, the scarecrow knows what he has to do: He returns to the field and watches over the corn as only he can. Masterfully told, with illustrations by award winner Bagram Ibatoulline, this book has all the makings of a new classic.
About the Author
Jane has been called the Hans Christian Andersen of America and the Aesop of the twentieth century. She sets the highest standard for the industry, not only in the meaningful body of work she has created, but also in her support of fellow authors and artists. Her books range from the bestselling How Do Dinosaurs series to the Caldecott winning Owl Moon to popular novels such as The Devil s Arithmetic, Snow in Summer, and The Young Merlin Trilogy, to award-winning books of poetry such as Grumbles from the Forest, and A Mirror to Nature. In all, she has written over 335 books (she s lost count), won numerous awards (one even set her good coat on fire), and has been given six honorary doctorates in literature. For more information, please visit www.janeyolen.com.

Heather Vogel Frederick is the author of the popular Mother-Daughter Book Club series, as well as the highly acclaimed "The Voyage of Patience Goodspeed", "The Education of Patience Goodspeed", and the Spy Mice series. She resides with her family in Portland, Oregon. Visit her at HeatherVogelFrederick.com.