Tricks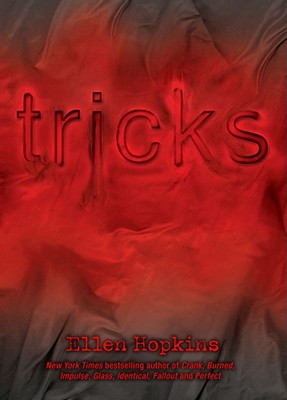 Tricks
Margaret K. McElderry Books, Paperback, 9781416950080, 627pp.
Publication Date: December 6, 2011
* Individual store prices may vary.
Buy at Local Store
Enter your zip code below to purchase from an indie close to you.
or
Buy Here
Description
When all choice is taken from you, life becomes a game of survival.
Five teenagers from different parts of the country. Three girls. Two guys. Four straight. One gay. Some rich. Some poor. Some from great families. Some with no one at all. All living their lives as best they can, but all searching . . . for freedom, safety, community, family, love. What they don t expect, though, is all that can happen when those powerful little words, I love you, are said for all the wrong reasons. These are five moving stories that remain separate at first, then weave together to tell a larger, more powerful story a story about making choices, taking leaps of faith, falling down, and growing up. And figuring out what sex and love are all about.
TRICKS is informed and inspired by living near Las Vegas a big teen prostitution scene and by the fact that teen prostitution is not exclusively the result of kids running away from abuse. Kids from better families are selling themselves for hefty sums in order to finance addictions or even just to buy jewelry or clothing. In some cases, parents prostitute their children for the same reason. So what happens to the kids who are asking themselves, and asking us, Can I ever feel OK about myself?
Highly charged, TRICKS is a gripping experience that turns you on and repels you at the same time.
About the Author
Ellen Hopkins is the #1 "New York Times" bestselling author of eleven young adult novels, as well as the adult novels "Triangles", "Collateral, "and "Love Lies Beneath". She lives with her family in Carson City, Nevada, where she has founded Ventana Sierra, a nonprofit youth housing and resource initiative. Visit her at EllenHopkins.com and on Facebook, and follow her on Twitter at @EllenHopkinsLit. For more information on Ventana Sierra, go to VentanaSierra.org.