Keeper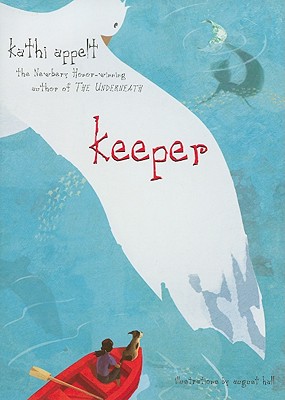 Keeper
Atheneum Books, Hardcover, 9781416950608, 399pp.
Publication Date: May 18, 2010
* Individual store prices may vary.
Shop Local
Enter your zip code below to find indies closest to you.
Description
Keeper was born in the ocean, and she believes she is part mermaid. So as a ten-year-old she goes out looking for her mother—an unpredictable and uncommonly gorgeous woman who swam away when Keeper was three—and heads right for the ocean, right for the sandbar where mermaids are known to gather. But her boat is too small for the surf—and much too small for the storm that is brewing on the horizon.
Kathi Appelt follows her award-winning and New York Times bestselling novel The Underneath with this stunning, mysterious, and breathtaking tale of a girl who outgrows fairy tales just a little too late—and learns in the end that there is nothing more magical and mythical than love itself.
About the Author
Kathi Appelt is the author of the Newbery Honoree, National Book Award finalist, PEN USA Literary Award-winning, and bestselling "The Underneath" as well as the National Book Award finalist "The True Blue Scouts of Sugar Man Swamp", "Keeper", and many picture books including "Counting Crows". She has two grown children and lives in Texas with her husband. Visit her at KathiAppelt.com.

George Ella Lyon grew up just down the road from Blanton Forest, the largest old growth forest in Kentucky, and has always felt most at home in the woods. Some of her recent titles include the ALA Notable "All the Water in the World", the Schneider Family Book Award-winner "The Pirate of Kindergarten", the Jane Addams Peace Award Honor Book "You and Me and Home Sweet Home", and "Planes Fly! "A novelist and poet, she lives with her family in Lexington, Kentucky. You can find out more online at GeorgeEllaLyon.com.
Praise For Keeper…
On a day when everything goes wrong, a little girl relies on the magic of the blue moon to turn things around. Since her mother swam away seven years ago, ten-year-old Keeper has lived happily with Signe on a remote slice of Texas coast, convinced that her mother's a mermaid. Keeper's waited all summer for the blue moon, when Signe will make blue moon gumbo, their friend Dogie will propose to Signe and their elderly neighbor's night-blooming cereus will flower. But when she accidentally spoils everything, Keeper sets out under the blue moon in a small boat, determined to row across dangerous Gulf waters to find her mother. While the action occurs in a single day, Appelt relies on flashbacks to flesh out her diverse human, animal and mythical characters. Deftly spinning together mermaid lore, local legend and natural history, this stunning tale proves "every landscape has its magical beings," and the most unlikely ones can form a perfect family. Hall's black-and-white illustrations lend perspective and immediacy. Beautiful and evocative—an absolute "keeper." -- KIRKUS, May 1, 2010, STAR

When you're 10 years old and you've had a really bad day, you look for your mother. That's what Keeper is doing—only Keeper believes her mother, who left when she was three, is a mermaid, so her plan involves getting a rowboat out into the sea late that night. And because Keeper has let down Signe, her guardian; Dogie, her best friend/employer; and even Mr. Beauchamp, her surrogate grandfather, she has to carry out that plan alone. Amid scattered pieces of August's dreamlike spot art, Appelt unfurls Keeper's magical story slowly, looking back over Keeper's day and forward to her longed-for reunion with the mother. As in her Newbery Honor–winning The Underneath, the point of view shifts between characters human, animal, and otherwise, but with less of the precocity that sometimes encumbered its predecessor. Texas's Gulf Coast, alive with Cajun spice and superstition, provides a mysterious haven for them all. A narrative thread based on a tender love story between two teenage boys may draw controversy, but Appelt masterfully balances themes of loss and renewal and demonstrates that magic works in unexpected ways. In so doing, she has written another keeper. - PUBLISHERS WEEKLY, May 3, 2010 STARRED REVIEW

Ten-year-old Keeper believes in wishes and magic, and why shouldn't she? Her mother, gone for the last seven years, is a mermaid, after all! So on the day of the Blue Moon, when everything she does has a disastrous result, Keeper knows her only option is to row out past the sandbar to the treacherous open water of the Gulf of Mexico, accompanied by BD (Best Dog) and Captain the seagull, and hope her mermaid mama can tell her how to fix things. Keeper is funny, feisty, at times older than her years, and often so stubborn that readers will have to shake their heads. In other words, quite realistic. The adults in the story are beautifully drawn, and absolutely believable, and the Gulf Coast setting is practically a character itself. The tender romance between two teenaged boys years earlier is hinted at, and it is sensitively portrayed, as is the romance between Keeper's guardian, Signe, and the damaged former soldier, Dogie. Filled with love, wild adventure, family drama, and even a touch of true fantasy, this is a deeply satisfying tale.–Mara Alpert, Los Angeles Public Library
SLJ July 1, 2010 STAR