So Many Days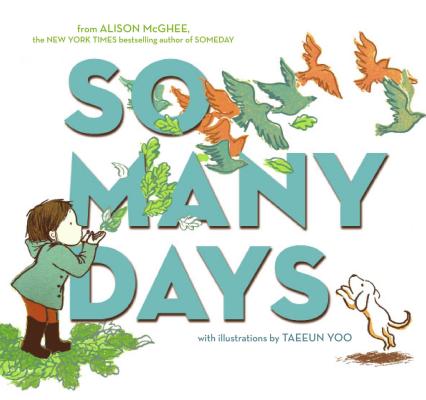 So Many Days
Atheneum Books, Hardcover, 9781416958574, 40pp.
Publication Date: January 5, 2010
* Individual store prices may vary.
Buy at Local Store
Enter your zip code below to purchase from an indie close to you.
or
Buy Here
Description
Life is full of surprises, big and small, and what children will grow up to do with their lives is one of the biggest and most joyful surprise of all. So Many Days reminds us to celebrate the choices our children make along the way, and the bravery it takes for them to decide exactly who they want to be. Like Dr. Seuss's Oh, The Places You'll Go, it's a perfect gift for graduations, weddings, new babies, difficult transitions, and when you simply want to let someone know you adore them.
Praise For So Many Days…
Yoo and McGhee (who recently collaborated on Only a Witch Can Fly) reunite, as meditative linocuts ground abstract poetry. A repeated refrain ("So many doors in all your days,/ so much to wonder about./ Who will you be and where will you go?/ And how will you know?") addresses readers directly, as McGhee foresees what lies ahead and underlines the gifts and strengths the child already has. "You are a star trailing fire at night./ You are a bird urgent for flight./ You are braver than you know." The words offer encouragement, but from on high: the speaker is an adult, powerful and all-knowing. Yoo counters with images of a girl in a raincoat and boots and her dog, who run, sail, fly, and tumble from one landscape into the next. To accompany the line "You are hope that wants to take wing," the girl blows a handful of leaves into the air, which, as they rise, become a flock of birds and fly away. It's these earnest depictions of small miracles that emphasize the magic and adventure that life offers. All ages. (Jan.) -Publishers Weekly



This book seamlessly pairs lyrical text and digitally manipulated linocut illustrations in a philosophical offering that encourages youngsters to face life head on. The refrain, "So many doors in all your days,/so much to wonder about./Who will you be and where will you go?/And how will you know?" precedes each presentation of life's possibilities. All the while, an omniscient narrator constantly informs the young protagonist that she has within herself all the resources she needs. "You are braver than you know," assures the narrator, brave enough to fly as free as the birds. The lime-colored endpapers reflect the predominately green-hued palette within, depicting the girl and her dog enthusiastically exploring her world. She climbs trees, peers through binoculars, reads, stomps in leaves and puddles, and symbolically takes to the air and the stormy sea, her small boat afloat atop a giant whale and eventually coming ashore in a tranquil landscape. But that landscape abruptly fades to white with a page turn, for sometimes the path ahead is unclear. Whatever comes, though, the child is loved "more than [she] knows." This youngster is quite different from the rather passive child in Dr. Seuss's Oh, the Places You'll Go! (Random, 1990). Her enthusiastic embrace of life can spark a one-on-one conversation about daily choices and future possibilities.—School Library Journal