Momma Loves Her Little Son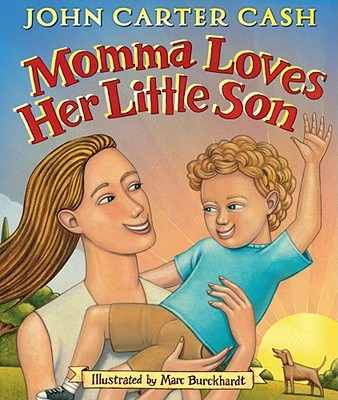 Momma Loves Her Little Son
Little Simon Inspirations, Hardcover, 9781416959120, 32pp.
Publication Date: March 24, 2009
* Individual store prices may vary.
Not Currently Available for Direct Purchase
or
Shop Local
Enter your zip code below to purchase from an indie close to you.
Description
""Momma loves her little son, there's nothing more so true..."
"
Grammy Award winning John Carter Cash creates a lyrical painting based on the intimate words his mother, June Carter Cash, shared with him as a child. Captured in the exquisite Americana art of illustrator Marc Burckhardt, an expression of love between mother and son comes to life in vibrant simplicity.
From the farthest shores to the deepest oceans, a mother's love for her child is without bounds. Little ones will be swept away on a magical adventure over mountains and sky scrapers and through forests and streams in this tender and joyful celebration of the enduring bond between mother and child.
About the Author
On June 19, 2007, Dualtone Records will release Anchored in Love: A Tribute To June Carter Cash, a celebration of the life and homage to the musical legacy of June Carter Cash, conceived and produced by John Carter Cash, the only child of Johnny and June. This bittersweet collection of songs written by or associated with the beloved singer features an all-star lineup of family and friends, including Loretta Lynn, Ralph Stanley, Willie Nelson, Kris Kristofferson, Billy Joe Shaver, Emmylou Harris, Johnny s daughter Rosanne Cash, June s daughter Carlene Carter, Elvis Costello, Sheryl Crow, Patty Loveless, Brad Paisley and Ronnie Dunn, as John Carter Cash personally matched each singer with a particular song. The album was primarily recorded at the fabled Cash Cabin Studio on the family property in Hendersonville, Tenn., where Johnny made many records and where his son carries on his parents legacy. There s a lot of history in that cabin. "Almost all of the people who participated in the album were family or friends who knew her personally, Cash explains. Everyone who appears on the record, whether they knew her or not, respected her and loved her dearly. Emmylou Harris was a close friend for years and years. Mom was a close friend with Billy Bob Thornton, Kris Kristofferson, Sheryl Crow, Ronnie Dunn and Willie Nelson. It s just a gathering of loved ones, really, to pay homage to her music. She wrote some of the songs, like Ring of Fire, and the very personal Song to John, which Emmylou sings; most of the rest are songs that she perpetuated or made famous, like Wildwood Flower [sung by Lynn] and Will the Circle Be Unbroken. One of the many high points of Anchored in Love: A Tribute to June Carter Cash is Elvis Costello s impassioned performance of Ring of Fire, a perfect union of singer and song. Other performances range from Carter and Dunn s foot-stomping duet on Jackson to Thornton and the Peasall Sisters stunningly austere interpretation of Road to Kaintuck. The album features a pair of grain-and-silk duets, as Nelson and Crow team up on If I Were a Carpenter, while Kristofferson and Loveless join their voices on Far Side Banks of Jordan. Among the album s emotional high points are Rosanne s lump-in-the-throat vocal on her stepmother s spiritual Wings of Angels, and Harris heart-wrenching yet joyous performance of her close friend s Song for John, an ode to a lasting relationship strong enough to transcend this mortal coil, which stands as the quintessential Johnny and June song. As diverse as it is, the album is unified by a palpable emotional thread, which John Carter attributes to his mother s spirit being present in the studio as these recordings were made. Some of the musicians who played on the tracks Randy Scruggs, Norman Blake, Dave Roe, Marty Stuart, Dennis Crouch, my wife Laura knew my mother very well. But I have to step back and say that a lot of it is just creative magic. This is just what happens when you put great artists and great songs together. It comes out in respect to her, and that common thread is clear."

Sharon Creech is the Newberry Medal-winning author of Walk Two Moons. Her other work includes Bloomability, Absolutely Normal Chaos, Chasing Redbird, and Pleasing the Ghost. After spending eighteen years teaching and writing in Europe, Sharon Creech and her husband have recently returned to the United States. They live near Princeton, New Jersey.