Just Desserts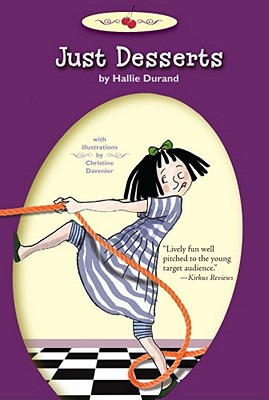 Just Desserts
Atheneum Books, Paperback, 9781416963882, 190pp.
Publication Date: June 21, 2011
* Individual store prices may vary.
Buy Now
or
Shop Local
Enter your zip code below to purchase from an indie close to you.
Description
DESSERT VS. ANNOYING SIBLINGS WHO S GOING TO WIN?
Dessert and her lunch-table buddies have been exposed to a highly contagious disease The Annoying Sibling Disease. And while it seems like just yesterday that Dessert reigned supreme over Charlie and the Beasties (aka her brothers) now they are ruining her life. If she doesn t come up with a plan to stop their unruly behavior, it will be the end of civilization as she knows it. Taking inspiration from her classroom study of General George Washington and the winter at Valley Forge, Dessert comes up with a plan to Let Freedom Ring. But will she really be able to stop the Annoying Siblings? Or has Dessert bitten off more than she can chew?
About the Author
Hallie Durandhas written many popular books for kids. She was inspired to write Catch That Cookie! By her own son s hard-won belief in magic after his gingerbread cookie scavenger hunt at school. (And yes, he really did ask to lock the car doors!) She lives with her cookie-loving family in Maplewood, New Jersey.

Christine Davenier lives in Paris. She has also illustrated the Very Fairy Princess books by actress Julie Andrews and her daughter Emma Walton Hamilton.
Praise For Just Desserts…
The common perils of childhood propel the action in Durand's second installment of her Dessert series, as her eponymous heroine, age eight, tries to solve the never-ending problem of annoying siblings. Children will easily identify with Dessert and her difficulties in this lively, always humorous story. Dessert isn't the only character who's encountering sibling difficulties: Her school friends find themselves even more plagued by their younger brothers and sisters than she. Ever innovative, Dessert starts a dues-paying club for the beleaguered group. However, as the money-collecting club president, she eventually realizes she can't actually solve her friends' problems. Worse, she spent the dues money on herself. The author deftly portrays both an active four-child family and Dessert's well-run third-grade classroom. Every child comes across as a believable, real person. Young readers will recognize the range of common annoyances caused by the destructive siblings, such as damaged dolls and stolen tooth-fairy prizes. Davenier's vivacious drawings easily capture the mood and enliven the characterizations. Lively fun well pitched to the young target audience. --KIRKUS, June 2010