Doll Bones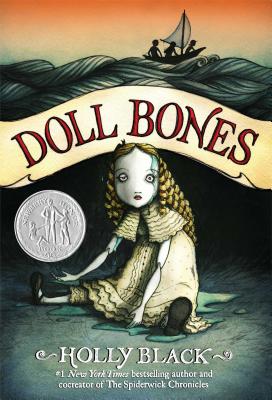 Doll Bones
Margaret K. McElderry Books, Hardcover, 9781416963981, 244pp.
Publication Date: May 7, 2013
* Individual store prices may vary.
Shop Local
Enter your zip code below to find indies closest to you.
Description
Discover the Newbery Honor winner "Doll Bones," from Holly Black, the cocreator of the Spiderwick Chronicles. A "Kirkus Reviews "Best Book. A "School Library Journal "Best Book. A "Booklist "Editor's Choice Books for Youth. A "Publishers Weekly" Best Children's Book. A NYPL "100 Titles for Reading and Sharing." A 2013 Goodreads Choice award nominee. A "People Magazine" "Best New Kids Book." Six starred reviews
Winner of a 2014 Newbery Honor Medal.
Zach, Poppy, and Alice have been friends forever. And for almost as long, they've been playing one continuous, ever-changing game of pirates and thieves, mermaids and warriors. Ruling over all is the Great Queen, a bone-china doll cursing those who displease her.
But they are in middle school now. Zach's father pushes him to give up make-believe, and Zach quits the game. Their friendship might be over, until Poppy declares she's been having dreams about the Queen--and the ghost of a girl who will not rest until the bone-china doll is buried in her empty grave.
Zach and Alice and Poppy set off on one last adventure to lay the Queen's ghost to rest. But nothing goes according to plan, and as their adventure turns into an epic journey, creepy things begin to happen. Is the doll just a doll or something more sinister? And if there really is a ghost, will it let them go now that it has them in its clutches?
"Doll Bones" is a winner of the Newbery Honor, is the recipient of six starred reviews, was on four Best Book lists, and was called "perfect" by "The New York Times.
About the Author
Holly Black spent her early yearts in a decaying Victorian mansion where her mother fed her a steady diet of ghost stories and faerie tale. An avid collector of rare foldlore volumes, spooky dolls, and crazy hats, she lives in West Long Branch, New Jersey, with her husband, Theo. Visit her website at www.blackholly.com.

Rana DiOrio was born in Providence, RI and grew up in a colorful Italian-American family. Her curiosity about the world began in kindergarten, while studying Western access to China and, obviously, panda bears. As a political science major/psychology minor in college, and then as a law student, she became fascinated with understanding perspective, and how just about any person, place, thing, or situation can be interpreted in so many valid ways. "I believe that I have two ears, two eyes and one mouth intentionally, so I listen and observe more than I talk," she explains. "As a result, I think I'm better able to respect and appreciate diversity." Rana's inspiration for writing What Does It Mean To Be Global? was the election of President Barack Obama and explaining its significance, on so many levels, to her children. Rana has written her way through life-as a student, a lawyer, an investment banker, a private equity investor, and now as an author and publisher of children's picture books. Her interests include practicing yoga, reading non-fiction, dreaming, effecting positive change, and, of course, being global, green, and present. She lives in Tiburon, California with her three Little Pickles.