This Means War!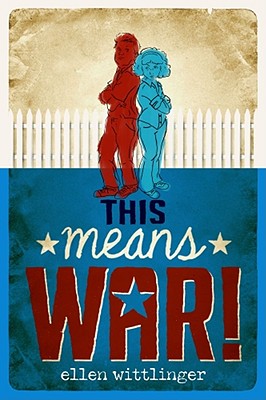 This Means War!
Simon & Schuster Books for Young Readers, Hardcover, 9781416971016, 211pp.
Publication Date: April 20, 2010
* Individual store prices may vary.
Buy at Local Store
Enter your zip code below to purchase from an indie close to you.
or
Not Currently Available for Direct Purchase
Description
October 1962. Juliet Klostermeyer's world is turning upside down. All she hears from her parents and teachers and on the news is the Russian threat and the Cuban Missile Crisis. And things aren't much better at home. Her best friend, Lowell, doesn't seem interested in being her friend anymore--he'd rather hang out with the new boys instead. When Patsy moves in, things are looking up. Patsy is fearless, and she challenges the neighborhood boys to see who's better, stronger faster: a war between the boys and the girls. All the talk of war makes Juliet uneasy. As the challenges become more and more dangerous, Juliet has to decide what she stands for--and what's worth fighting for. This is a powerful middle-grade coming of age novel from teen powerhouse Ellen Wittlinger.
Praise For This Means War!…
"The characters are solid and believable, while the dialogue is fresh, poignant and funny. The children's fear about the end of the world is realistically portrayed, yet Wittlinger never lets it overshadow the good-humored story of friendship. Will appeal to fans of Phyllis Reynolds Naylor's The Boys Start the War (1993) and The Girls Get Even (1994).--Kirkus Reviews



"Wittlinger raises many complex gender questions without being heavy-handed...Readers will find it easy to root for Juliet, both as she competes and as she sorts out her relationships with sensitive Lowell and the often pushy Patsy. The book's backdrop—an Air Force town during the Cuban Missile Crisis—ratchets up the anxiety and clearly places the children in a critical moment between childhood and the adult world."--Publishers Weekly



"Wittlinger conveys a sober knowingness that shadows and deepens the seemingly bland innocence of 1960s girlhood...and her prose has the same bracing good sense and down-to-earth humor of her main character. A fine addition to the growing shelf of novels set during the Cuban Missile Crisis."--The Horn Book



"Wittlinger latches on to a poignant metaphor for war in this lively and readable tale...a clever concept that keeps the proceedings fun even as the darker drama of potential world collaps provides a weighty element...A warm way to introduce the cold war."--Booklist



"The childrens' face-off reflects the 1962 Soviet/American stand-off in Cuba, an episode that fills the children in this miltary community with both bravado and dread and raises the tone of the novel well above the standard "boys are idiots; girls have cooties" plitting. Wittlinger has a keen eye for 'tween age dynamics...Decades may have elapsed, but boys vs. girls and nation vs. nation never goes out of fashion."--BCCB