Louise the Big Cheese and the La-Di-Da Shoes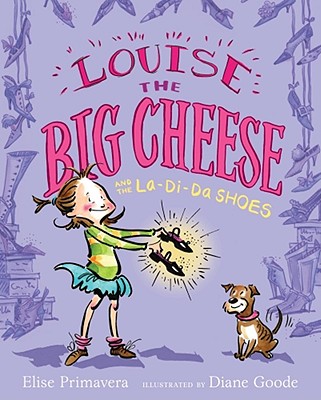 Louise the Big Cheese and the La-Di-Da Shoes
Simon & Schuster/Paula Wiseman Books, Hardcover, 9781416971818, 40pp.
Publication Date: February 23, 2010
* Individual store prices may vary.
Shop Local
Enter your zip code below to find indies closest to you.
Description
There's nothing like a pair of sparkly, shiny, and pretty la-di-da shoes to bring out the Big Cheese in a girl. But Louise's mother doesn't quite see it that way. Instead Louise has to wear the dull and drab brown tie shoes she has worn for years. They are practical, Louise's mother says. They are better in the rain, the shoe salesman says. It doesn't matter that Louise doesn't see it that way. Then Louise's best friend Fern comes to school with shiny new patent leather shoes from Paris with sparkles on the toes Are the bonds of friendship greater than shoe envy? Only Louise can say...
About the Author
Elise Primavera has, like Ivy, suffered her fair share of jinxes in life and has found it helpful, like Cat, to consult the I Ching before making any important decisions. She often feels, like Pru, that the safest place in this danger-filled world is under a quilt with a good book. As Franny dreams of doing, she has made her mark in the world but as a writer and illustrator of children's books and not as an explorer in the mold of Sir Ernest Shackleton. Among her many books are the national bestselling Auntie Claus and its sequel. This is her first novel, but it won't be her last, because like Hieronymus Gumm, she always likes to have the last word and is hard at work on another book about the Gumm Street Girls.

Diane Goode is the illustrator of more than fifty beloved and critically acclaimed picture books, including the Caldecott Honor Book When I Was Young in the Mountains by Cynthia Rylant. Inspired by the handwritten letters of the Founding Mothers, she begins with their quill and sepia handwriting and spins out the line to re-create their images and the remarkable events of their lives for a new generation of young readers.