The Six Rules of Maybe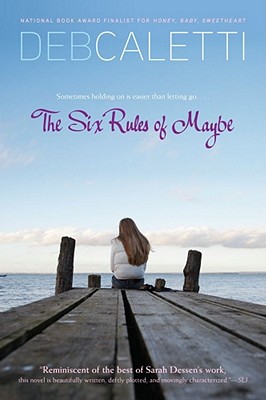 The Six Rules of Maybe
Simon Pulse, Paperback, 9781416979715, 321pp.
Publication Date: March 22, 2011
* Individual store prices may vary.
Buy at Local Store
Enter your zip code below to purchase from an indie close to you.
or
Buy Here
Description
Scarlet spends most of her time worrying about other people. Some are her friends, others are practically strangers, and then there are the ones no else even notices. Trying to fix their lives comes naturally to her. And pushing her own needs to the side is part of the deal. So when her older sister comes home unexpectedly married and pregnant, Scarlet has a new person to worry about. But all of her good intentions are shattered when the unthinkable happens: she falls for her sister's husband. For the first time in a long time, Scarlet's not fixing a problem, she's at the center of one. And ignoring her feelings doesn't seem to be an option...
Praise For The Six Rules of Maybe…
"Reminiscent of the best of Sarah Dessen's work, this novel is beautifully written, deftly plotted, and movingly characterized." –School Library Journal
"Caletti is a wonderfully gifted writer. Her prose is infused with wisdom and wit, and her characters are all deeply layered. Readers of all ages will undoubtedly enjoy this." –Romantic Times BOOKREVIEWS
"Scarlet's adoration of Hayden is both poignant and realistic... Juliet's pursuit of an old boyfriend, a bad boy, rings true." — Booklist
"The main characters are well drawn and complex." –Publishers Weekly




Scarlet's characterization is particularly original...Her relationship with Hayden...is touching and credible...The fact that all three women...struggle with their view of men is explored with particular depth and subtlety...-- The Bulletin of the Center for Children's Books, May 2010



Caletti tells her layered, engaging story in her usual style that includes lots of introspection on the part of her narrator, a multitude of fascinating characters, and loads of skillfully crafted sentences that will entice readers racing through to slow down and re-read with pleasure before speeding on again. -- Jennifer M. Brabander, Horn Book Magazine, May/June 2010



Juliet was always in the lead, and I was her echo." So says seventeen-year-old Scarlet about her older sister, who is once again in the lead, having returned home with a husband neither Scarlet nor her mother have ever heard of, let alone met, and a baby on the way. As the summer progresses, Scarlet grows close to Hayden, Juliet's husband, and begins to worry that Juliet's old selfishness is going to destroy her new family even before it's established. Caletti's fluid, musing style and keen perceptions serve her particularly well in this depiction of Scarlet's summer of maturation; it's not so much that the external events are momentous as they believably provide just enough impetus for Scarlet to enrich and transform her view of herself, her sister, and her family. Scarlet's characterization is particularly original: a happy meddler in people's lives, she adores leaving secret gifts and pulling strings in ways that will bring joy, and she empathizes too much with clingy lonely outsiders to tell them to get lost. Her relationship with Hayden, a combination of friendship, protectiveness, and crush, is touching and credible, and it provides an effective agent for her increasing flashes of greater understanding. The fact that all three women, Scarlet, Juliet, and their mother, struggle with their view of men is explored with particular depth and subtlety, each is affected in her own way not only by the departure of Scarlett and Juliet's father but by the responses of the other two to that fact. This is a kind of reconsideration that's a key component of maturation, and young adults in the thick of the process will find much of themselves in Scarlet's journey. -- BULLETIN, May 2010, STAR