Marco Goes to School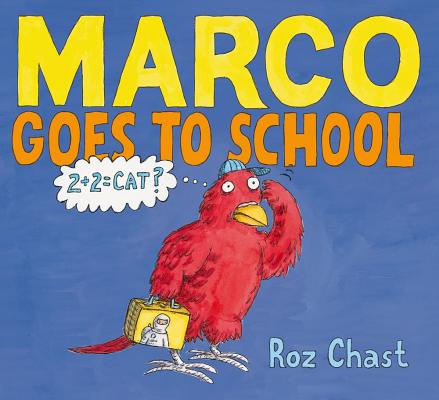 Marco Goes to School
Atheneum Books for Young Readers, Hardcover, 9781416984757, 32pp.
Publication Date: July 10, 2012
* Individual store prices may vary.
Buy at Local Store
Enter your zip code below to purchase from an indie close to you.
or
Buy Here
Description
The irrepressibly inquisitive Marco is off to school in this picture book from New Yorker cartoonist Roz Chast. Marco is the busiest bird, and it's time he goes to school There is so much to do at school, from lessons to lunch to building a block tower to the moon But Marco soon learns that his plans for the day may be just a bit too ambitious. Luckily, school has one extra surprise for him--and that's a new friend
In Marco's latest wacky adventure, acclaimed cartoonist Roz Chast proves that it's not getting to the moon that counts--it's the friends we make along the way.
About the Author
Roz Chast is a staff cartoonist for The New Yorker and is the illustrator of Steve Martin's popular children's book The Alphabet from A to Y with Bonus Letter Z. She lives in Connecticut with her husband and two children. She is also the author and illustrator of Too Busy Marco.
Praise For Marco Goes to School…
"The little parrot at the center of Too Busy Marco (S & S, 2010) is back, and this time, just as he is feeling bored at home, his human mom sends him to school, explaining that it is a place where children go to "learn things"…the story…lands on a comforting truth–regardless of what goes wrong on his first day, Marco finds a friend. Chast's busy watercolors invoke the constant whirring of Marco's overactive imagination."
—School Library Journal, June 2012



"Chast isn't interested in messages or lessons—Marco daydreams, has fun at school, and that's about it—and her scribbly ink-detailed watercolors and Marco's left-field observations convey his singular perspective with abundant humor."
—Publishers Weekly, May 28, 2012



"Marco, the little red bird in a world of big humans, is bored with life at home. Because he is a bird of rambunctious confidence, he is enthusiastic when he hears about the concept of school...Marco is at first delighted, thinking school will answer all his questions, such as "Do trees think?" But the lesson of the day, "Monday Tuesday Chewday Chumday Humday Doo-Dah-Day," soon lulls him into a daydream and he decides that he must get to the moon. His plan, involving a block tower and the joyful assistance of his new classmates, doesn't quite work out, but Marco is unsquelched. This loopy approach to the theme of first day at school seems likely to comfort by amusement and by the reassuring prospect of Miss Peachtree, the kindly teacher that we see only from the knees down, in glimpses of lovely flowered bell-bottoms."
—Horn Book Magazine, September/October 2012



"It's never too early to expose your child to the joys of Chast's wobbly-inked humor, and winning converts will be easy with this latest tale (after "Too Busy Marco") about the dimwitted parrot. Not so easy, however, is convincing Marco of the appeal of school…. Happily, the actual classroom experience rouses Marco's latent ambitions, if not quite his ability to attain them. There's always first grade."



"Marco, a small red bird with big dreams in a world of humans, hopes his first day at school will answer all the questions chirping in his head.... Marco doesn't realize his dream—to be the first bird on the moon—but finds a friend at school. Grown-ups may recognize the ironic humor of Roz Chast, a cartoonist for The New Yorker. Kids will laugh at and cheer for Marco."



"In Too Busy Marco (2010), the red parrot had too much on his plate. Now he is BORED. Marco's mom has the antidote—school—which turns out to be more interesting than he expected. Well, not school per se. That's boring. But there are things in the classroom that pique his imagination, and before long he and the other kids are piling blocks up to reach the moon. The New Yorker cartoonist Chast is as offbeat as ever. Watercolor-and-ink drawings in her distinctive style have plenty of visual asides and silly moments…. A slightly older picture-book crowd will be the best audience."
—Booklist Online, August 29, 2012