An Army of Frogs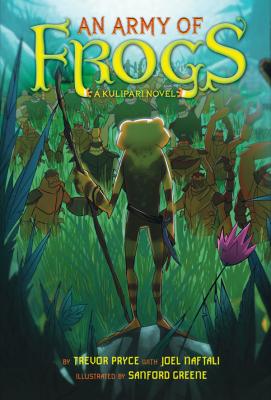 An Army of Frogs
Amulet Books, Hardcover, 9781419701726, 272pp.
Publication Date: May 7, 2013
* Individual store prices may vary.
Buy at Local Store
Enter your zip code below to purchase from an indie close to you.
or
Buy Here
Description
Watch the Netflix original series based on the books starting September 4, 2016
It's frogs versus scorpions in this new series by professional football player Trevor Pryce. For years, the frogs of the Amphibilands have lived in safety protected by an elite group of poisonous frogs named the Kulipari and by the dreamcasting spell of the turtle king that cloaks their lands in mystery. Now the spell is threatened by the Spider Queen, a talented spellcaster, and Lord Marmoo, leader of the scorpions. With the Kulipari off training in secret, the Amphibilands have never been so vulnerable. Enter Darel, a young frog who dreams of joining the Kulipari, despite his utter lack of poison and limited fighting skills. With the help of a motley crew of friends, Darel has the chance to become the warrior of his dreams.
Cool animals, thrilling action, and a bit of natural science this novel, illustrated in full color by acclaimed comics artist Sanford Greene, is sure to be a major hit with boys.
Praise for "An Army of Frogs"
"This little frog should find fans among readers of the Warriors and Redwall sagas."
"Kirkus Reviews"
"Pryce builds tension as the frogs figure out how to deploy their varied skills and reach the ancient turtle king who long ago placed a protective spell over their land. The violent but not overly graphic action is well matched by Greene's dynamic and plentiful full-color illustrations."
"Booklist"
"In this fast-paced tale, Pryce finds just the right balance between brutality and bravery, friendship and betrayal, and loss and discovery. A must-have, winning adventure that is nearly impossible to put down."
"School Library Journal
""Greene's color full-page illustrations have the richly saturated look of Marvel comic books, and there's a superhero feel to the various fighting poses Darel and his pals take."
"The Bulletin of the Center for Children's Books "
"This clever fantasy series featuring frogs versus scorpions, set in Australia, makes for pleasant reading."
"Library Media Connection"

About the Author


Method Man lives in New York, NY.
Renowned comics artist Sanford Greene has created for DC Comics, Dark Horse Comics, Upper Deck, SONY, H3D Games, Sega, Hasbro, Lucas Arts, CAPCOM, Nickelodeon, Image Comics and many more. He lives in Columbia, S.C.
Comics and screenplay writer David Atchison is the co-creator of Rosario Dawson's Occult Task Force comics and is currently adapting the series into a screenplay for the upcoming motion picture of the series. He lives in Atlanta, GA.

Joel Naftali lives in Maine. He is the coauthor, with Lee Naftali, of "Cooking in Paradise: Culinary Vacations Around the World"; "Generation E: The Do-It-Yourself Business Guide for Twentysomethings and Other Non-Corporate Types" and "You're Certifiable: The Alternative Career Guide to More Than 700 Certificate Programs, Trade Schools, and Job Opportunities".