Rapido's Next Stop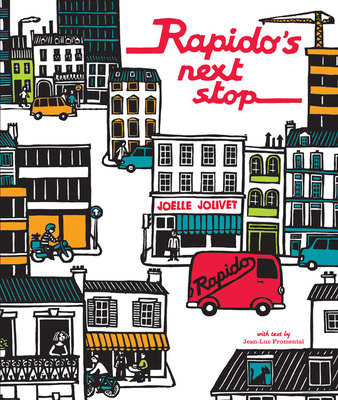 Rapido's Next Stop
ABRAMS, Hardcover, 9781419701955, 20pp.
Publication Date: April 1, 2012
* Individual store prices may vary.
Buy Now
or
Shop Local
Enter your zip code below to purchase from an indie close to you.
Description
The latest from Joelle Jolivet and Jean-Luc Fromental, the bestselling duo behind "365 Penguins," this book follows Rapido the messenger and hisvan throughout the city as he delivers packages. Clever flaps on every page give him hints into people's lives and clues as to what he's delivering, and where. The objects that Rapido delivers are represented as symbols, which readers can decipher from the setting and the rhyme. To help with the clues, a packing list of all the objects in Rapido's truck is provided on the title page. It's an interactive treat that celebrates city life and transportation and that features the striking art that has made Jolivet an international sensation.
About the Author
In addition to writing for film, television, and newspapers, Jean-Luc Fromental is the author of about thirty books, including novels, travelogues, children's books, and comics.
Nee en 1965 Joelle Jolivet vit et travaille a Ivry sur Seine. De ses etudes de graphisme aux Arts appliques, elle a garde le gout du dessin d'apres nature, ce qui l'a tres vite menee a l'illustration. Elle continue cependant a pratiquer la mise en page qui satisfait son gout pour la typographie et lui permet de realiser affiches et couvertures de livres. Aux Beaux-Arts, elle a complete sa formation a l'atelier de lithographie, ce qui l'a pas a pas mene a la gravure sur linoleum, son principal moyen d'expression aujourd'hui. Joelle Jolivet travaille egalement dans la publicite et la presse.
On retrouve dans ses illustrations hautes en couleur un sens du cadrage original et un trait malicieux.
Antony Shugaar is a writer and translator. Aside from Giorgio Faletti s "A Pimp s Notes", his recent translations include books by Simonetta Agnello Hornby, Silvia Avallone, Nanni Balestrini (with an NEA translation fellowship), Fabio Bartolomei, Massimo Carlotto, Giancarlo De Cataldo, Diego De Silva, Marco Mancassola, Gianni Rodari, and Paolo Sorrentino. He is the author of "Coast to Coast" and "I Lie for a Living" and the coauthor, with the late Gianni Guadalupi, of "Discovering America" and "Latitude Zero". He has published with the "Washington Post", the "Boston Globe", and online with the "New York Times", among other publications. He is currently at work on a book about translation for the University of Virginia Press.