Hit the Road, Jack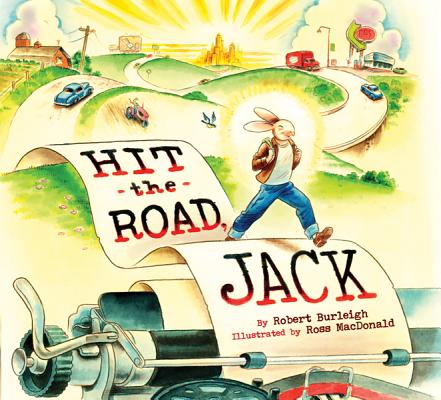 Hit the Road, Jack
ABRAMS, Hardcover, 9781419703997, 48pp.
Publication Date: September 2012
* Individual store prices may vary.
Shop Local
Enter your zip code below to find indies closest to you.
Description
In this delightful picture book, loosely inspired by Jack Kerouac's "On the Road," a scat-singing, bebopping jackrabbit travels across the United States and marvels at all the wonders that the country reveals from hopping on the subway in New York City to playing a jukebox in Chicago, and from gazing at Mount Rushmore to crossing the Golden Gate Bridge in San Francisco. Written in the rhythm and spirit of Beat poetry, "Hit the Road, Jack" is an exuberant story of experiencing all the country has to offer with wide-eyed awe.
Praise for "Hit the Road, Jack"
STARRED REVIEW
"It's not a biography or an introduction to Kerouac's work; instead, it's a tribute to his spirit and his era."
"Publishers Weekly," starred review
"MacDonald's golden-hued watercolors and pencil crayons present 1940s America as something of a paradise, with the neon diner signs and jazz clubs just as beautiful as the rolling hills and majestic mountains..."
"Booklist"
"Joining the ranks of such age- and genre-defying picture books.. is this homage to Jack Kerouac."
"The Bulletin of the Center for Children's Books"
"The book pays homage to Kerouac while encouraging a love of the country, writing and wanderlust through Jack."
"Reading Today
""The illustrations look like something out of a 1950s picture book, and everything the poetry and the drawings convey a sense of exuberance and excitement. "
" "Wired's Geek Dad
" Burleigh's writing has a wonderful rhythm and the book reads aloud beautifully. "
" "Library Media Connection.
About the Author
Robert Burleigh is the award-winning author of many books for children, including "The Adventures of Mark Twain by Huckleberry Finn", illustrated by Barry Blitt; "Night Flight", illustrated by Wendell Minor; and "Black Whiteness", illustrated by Walter Lyon Krudop. His many other books include "Hoops"; "Stealing Home"; and "Clang! Clang! Beep! Beep!" He lives in Michigan.

Paul Nelson is best known as a music critic and executive whRoss Macdonald is the pen name of crime fiction author Kenneo championed performers such as Rod Stewart and the New Yorkth Millar. He is best known for his Lew Archer series of nov Dolls. He passed away in 2006. els and was awarded the Grand Masters Award from the Mystery Writers of America. After being raised in Ontario, Canada, he passed away in 1983 after spending the majority of his life in Santa Barbara, California.