Planetfall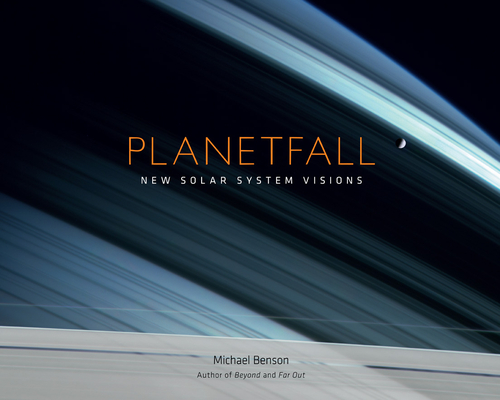 Planetfall
New Solar System Visions
ABRAMS, Hardcover, 9781419704222, 208pp.
Publication Date: October 1, 2012
* Individual store prices may vary.
Buy Now
or
Shop Local
Enter your zip code below to purchase from an indie close to you.
Description
Thanks to the photographic output of a small squadron of interplanetary spacecraft, we have awakened to the beauty and splendor of the solar system. Since Michael Benson's masterful book "Beyond: Visions of the Interplanetary Probes," new, more powerful cameras in probes with greatly improved maneuverability have traversed the wheeling satellites of Jupiter; roamed the boulder-strewn red deserts of Mars; studied Saturn's immaculate rings; and shown us our own ravishing Earth, a blue-white orb with a disturbingly thin atmosphere, as it plunges deeper into ecological crisis. These new images are the subject of Benson's "Planetfall," a truly revelatory book that uses its large page size to reproduce the greatest achievements in contemporary planetary photography as never before.
Praise for "Planetfall"
"All retrospectives, art and otherwise, should shock us awake the way this one does . . . "Planetfall" is a book of science through and through, but it also deepens our sense of the miracle and the mystery of the universe, of our eye-blink lives." --"The New York Times"
"This is the way I like to tour the solar system. Find a chair. Sit. Turn some pages. Gaze. Wonder." --NPR.com
"Beautiful interplanetary images." --MSNBC.com
"Beautiful visions of what's out there." --"The Huffington Post"
"To encounter a Benson landscape is to be in awe of not only how he sees the universe, but also the ways in which he composes the never-ending celestial ballet." --Time.com

About the Author
Michael Benson is a journalist, filmmaker, and artist. His work has been published in the "New York Times", the "Atlantic", "Rolling Stone", and the "Nation".