The Museum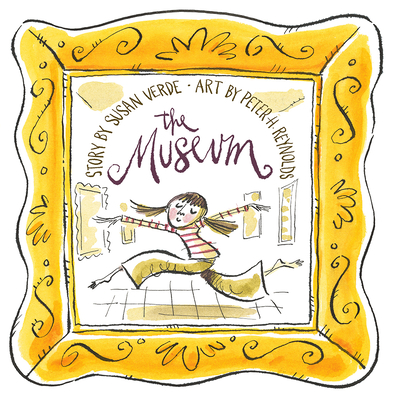 The Museum
Abrams Books for Young Readers, Hardcover, 9781419705946, 32pp.
Publication Date: March 12, 2013
* Individual store prices may vary.
Buy Now
or
Shop Local
Enter your zip code below to purchase from an indie close to you.
Description
When I see a work of art, something happens in my heart
As a little girl tours and twirls through the halls of the art museum, she finds herself on an exciting adventure. Each piece of art evokes something new inside of her: silliness, curiosity, joy, and ultimately inspiration. When confronted with an empty white canvas, she is energized to create and express herselfwhich is the greatest feeling of all.
With exuberant illustrations by Peter H. Reynolds, "The Museum" playfully captures the many emotions experienced through the power of art, and each child's unique creative process.
Praise for "The Museum"
"Verde and Reynolds deliver a simple premise with a charming payoff this twirly-whirly homage to a museum is, on balance, a sweet-natured and handsome celebration."
"Kirkus Reviews"
"Debut author Verde makes an engaging case for understanding art as an experience rather than an object."
"Publishers Weekly"
"The rhymed text captures the excitement of a being sparked by art.
"Booklist"
"Communicates a fresh, playful, childlike perspective on art and normalizes childlike responses to it. The idea that posing, laughing, and curious questions are all appropriate museum behavior may be a new one for both children and parents, and knowing this is sure to make for more enjoyable museum visits."
"School Library Journal"
"For parents who have trouble communicating the excitement of art to their children, The Museum can serve as the starting point for a conversation. The book is also a wonderful reminder of visual art's power to encourage and empower self-expression. Children and adults will finish this book excited about their next art experience, and perhaps tempted to dance through the halls of a museum in the near future."
"Bookpage"
"This playful picture book pays tribute to the joyous effect art can have on the viewer."
"Shelf-Awareness"

About the Author
Susan Verde grew up in a brownstone in the heart of Greenwich Village in New York City. She spent much of her time as a child clad in bell bottoms and rainbow suspenders. She currently lives in East Hampton, New York, amidst an explosion of Legos, art supplies, and picture books, with her twin boys Joshua and Gabriel, and her daughter Sophia. They are the constant inspiration for her writing.

Peter H. Reynoldsis a New York Times best-sellingillustrator who has created manyacclaimed books for children, including "The Dot, Ish, " and"The North Star."His bookstore, The Blue Bunny, and his company, FableVision, both in Massachusetts, are dedicated to sharing stories that matter, stories that move. Visit his webite at www.peterhreynolds.com.