Pleasure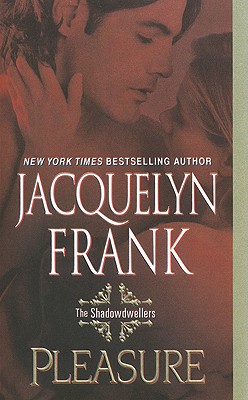 Pleasure
Zebra Books, Mass Market Paperbound, 9781420104240, 343pp.
Publication Date: September 1, 2009
* Individual store prices may vary.
Buy at Local Store
Enter your zip code below to purchase from an indie close to you.
or
Not Currently Available for Direct Purchase
Description
Beyond our world lies a land where darkness reigns--the land of the virile, sensual Shadowdwellers. Yet their mysterious abilities are no match for the power of desire. . .
Double Your Pleasure. . .
Discipline. Penance. Order. A Sanctuary priest's life revolves around such things. But when Sagan is taken captive and thrust into the Alaskan wilderness, he encounters a woman who challenges his faith and his self-control. Valera is a natural born witch who almost lost herself to the lure of dark magic. By rights, Sagan should shun her, but convention will count for nothing in the face of a passion that could change the world of the Shadowdwellers forever. . .
As Chancellor of the Shadowdwellers, Malaya's first duty is to her people. Her bodyguard, Guin, knows this only too well. For tradition's sake, Malaya must marry, and the thought of this lush, vibrant, woman in a loveless union is impossible for him to bear. Guin loves Malaya--not as a subject loves his queen but as a man craves a woman. And even if he cannot keep her, he'll show her everything she stands to lose. . .
About the Author
Hi there. It's me! Again. Time to update some more. Trying to keep up with this and realizing I haven't updated this since 2012. (It's 2015 right now) I've expanded my online presence to include Facebook and Twitter, a website a blog and every other bleeping thing there is out there in the cyber world. Was finding it hard to manage all that exposure and get work done at the same time. I am writing under two names (JAX is for my steamier stuff...and yes, it does get steamier!) And I am in over half a dozen languages now! INCUDING a full line of NIGHTWALKERS audio books with the glorious narration of the superb Xe Sands. I'm thrilled with the job she did!

NIGHTWALKER, the final book in the NIGHTWALKER series has just debuted and my fingers are crossed that it will do well.

I'm still living in Asheville, NC. My kitty family has dwindled to a mere eight cats. I was fostering and...I found it so hard to trust anyone would give them a better home than me! Is that ego or arrogance or just trust issues?

Email will always be welcomed. I am a tech queen and my laptop has grown roots into my thighs. (And my bottom has grown them into my recliner). I am so thrilled about all of my books and I want to know what everyone thinks of them! I think it would be fascinating to hear what my readers would like to see happen in the Nightwalker world as the series ends. I receive emails at jackifrankwrites@gmail.com these days. Feel free to say hi!

If you haven't tried me, please do. I always recommend starting with JACOB. Or if you don't want to invest in a series, go for DRINK OF ME. It's a stand alone.

Enjoy,

Hugs and Kitties,

Jacquelyn Frank"