Henry V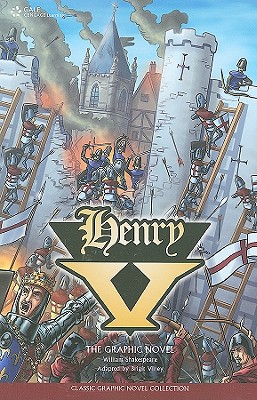 Henry V
Lucent Books, Hardcover, 9781420503715, 144pp.
Publication Date: April 15, 2010
* Individual store prices may vary.
Not Currently Available for Direct Purchase
or
Shop Local
Enter your zip code below to purchase from an indie close to you.
Description
Classic Graphic Novels, the new collection from Lucent Books, brings the classics to life for a whole new generation of readers. Designed especially for young fans of the classics, comic book buffs and reluctant readers, this collection utilizes a fresh blend of contemporary storytelling and captivating artwork to entertain, educate and encourage students to return to these stories again and again.
About the Author
Keith Hale is author of the novels Clicking Beat on the Brink of Nada and Letters to a Shooting Star. He has edited an anthology of gay literature from antiquity through the First World War (Ode to Boy), a collection of Lord Byron's love poetry for boys (Edleston), a collection of Rupert Brooke's letters that had been sealed for eighty years due to their homosexual themes (Friends and Apostles), a collection of Georgian Poetry, and editions of poetry by Shakespeare, Housman, and Brooke. Hale wrote the first and perhaps only account of gay life in the Balkans before the walls of Communism crumbled in his travelogue In the Land of Alexander, and he explored how the military's ban on gays affected the life of one ROTC cadet in his book Torn Allegiances. Hale is a native of Mayflower, Arkansas, and also has made his home in Austin, Amsterdam, and Guam.
John McDonald has researched the history of the Halton area since 1970, an interest which started when he began inquiring into the Limehouse and Dolly Varden areas where he spent his youth as the eldest of nine children. As a boy he felt the presence of the past as he roamed through old ruins of lime kilns and mills, which motivated him to collect old photographs and memorabilia and to write about local people and places.
A founding member of the Esquesing Historical Society and former member of Halton Hills and Halton Region Councils, John takes a keen interest in the community and has helped to awaken a new interest in this area's history.