Pluto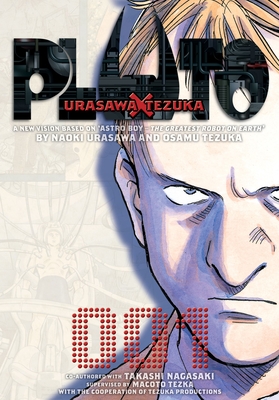 Pluto
Urasawa X Tezuka, Volume 1
Viz Media, Paperback, 9781421519180, 200pp.
Publication Date: February 1, 2009
* Individual store prices may vary.
Buy at Local Store
Enter your zip code below to purchase from an indie close to you.
or
Buy Here
Description
In a distant future where sentient humanoid robots pass for human, someone or some thing is out to destroy the seven great robots of the world. Europol's top detective Gesicht is assigned to investigate these mysterious robot serial murders the only catch is that he himself is one of the seven targets.
About the Author
Naoki Urasawa's career as a manga artist spans more than twenty years and has firmly established him as one of the true manga masters of Japan. Born in Tokyo in 1960, Urasawa debuted with "BETA!" in 1983 and hasn't stopped his impressive output since. Well-versed in a variety of genres, Urasawa's oeuvre encompasses a multitude of different subjects, such as a romantic comedy ("Yawara! A Fashionable Judo Girl"), a suspenseful human drama about a former mercenary "Pineapple ARMY"; story by Kazuya Kudo), a captivating psychological suspense story ("Monster"), a sci-fi adventure manga ("20th Century Boys"), and a modern reinterpretation of the work of th"e God of Manga", Osamu Tezuka ("Pluto: Urasawa x Tezuka"; co-authored with Takashi Nagasaki, supervised by Macoto Tezka, and with the cooperation of Tezuka Productions). Many of his books have spawned popular animated and live-action TV programs and films, and 2008 saw the theatrical release of the first of three live-action Japanese films based on "20th Century Boys". No stranger to accolades and awards, Urasawa is a three-time recipient of the prestigious Shogakukan Manga Award, a two-time recipient of the Osamu Tezuka Cultural Prize, and has received the Kodansha Manga Award. Similarly, "Monster "has been nominated three times for the Eisner Award in America. Urasawa has also become involved in the world of academia, and in 2008 accepted a guest teaching post at Nagoya Zokei University, where he teaches courses in, of course, manga.

Regarded by many as the "God of Manga" Osamu Tezuka was born in 1928 in Toyonoka, in Osaka, Japan. A prolific author and artist, Tezuka is generally regarded as the single figure responsible for developing Japan's massive manga and anime industries. His cinematic art style and novelistic narratives have made his work as universally accessible and relevant now as when first published in Japan. A list of his well-known and universally loved work includes the classic JUNGLE EMPEROR LEO (also known as Kimba the White Lion), BLACK JACK, ADOLF, MIGHTY ATOM (known as ASTRO BOY in the U.S.) and METROPOLIS (recently made into a hit anime film). Tezuka continued creating comics until his death in 1989.