Fullmetal Alchemist, Volume 21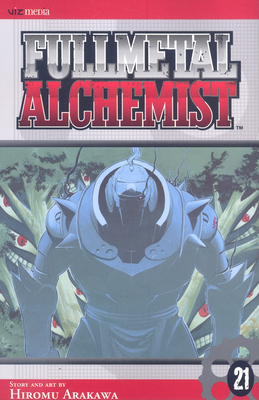 Fullmetal Alchemist, Volume 21
Viz Media, Paperback, 9781421532325, 176pp.
Publication Date: November 17, 2009
* Individual store prices may vary.
Buy at Local Store
Enter your zip code below to purchase from an indie close to you.
or
Buy Here
Description
R to L (Japanese Style). 21+ volumes.

Somewhere between science, magic and art lies Fullmetal AlchemistTwo brothers on a quest to find thePhilospher's Stone - Meet Edward and Alphonse Elric. Two brothers endowed with the power of alchemy. In the warbetween science and magic the future of the world belongs to 2 brothers. Edward and Alphonse: Alchemy be thy name

In an alchemical ritual gone wrong, Edward Elric lost his arm and his leg, and his brother Alphonse became nothing but asoul in a suit of armor. Equipped with mechanical "auto-mail" limbs, Edward becomes a state alchemist, seeking the onething that can restore his brother and himself...the legendary Philosopher's Stone.

A diabolical trap is set for President Bradley... If he isassassinated, a power vacuum will open that Mustang and his allies will be more than happy to fill. Then, while Ed isreunited with someone from his past, Al is separated from his body--his proxy armor body Now who is filling his heavymetal shoes...? Plus, take a break from all the alchemical intrigue and homunculus backstabbing at the annualResembool Spring Sheep Festival
About the Author
Born in Hokkaido (northern Japan), Hiromu Arakawa first attracted national attention in 1999 with her award-winningmanga Stray Dog. Her series Fullmetal Alchemist debuted in 2001 in Square Enix'smonthly manga anthology Shonen Gangan."