Yu-Gi-Oh! Zexal, Volume 4 [With Trading Card]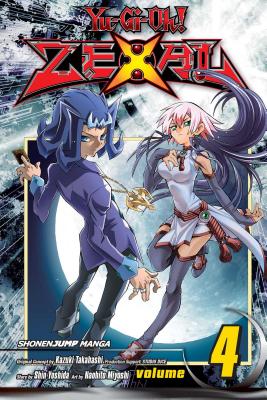 Yu-Gi-Oh! Zexal, Volume 4 [With Trading Card]
Viz Media, Paperback, 9781421561073, 200pp.
Publication Date: January 7, 2014
* Individual store prices may vary.
Shop Local
Enter your zip code below to find indies closest to you.
Description
In a futuristic city, augmented reality Duels are all the rage. Duelists, using devices called D-Gazers, can interact with their environment and their opponents as never before. With more awesome monsters and unbelievable cards, the future of Yu-Gi-Oh starts right here
The mysterious Luna suddenly appears and challenges Shark to a duel. At stake is a new card and a new power Elsewhere, Yuma and his friends form the Numbers Club, dedicated to finding the powerful Numbers Cards and stopping the plans of the evil Dr. Faker
Card included with the first printing only.
Reads R to L (Japanese Style) for teen audiences.
About the Author




Artist/author Kazuki Takahashi first tried to break into the manga business in 1982, but success eluded hiim until Yu-Gi-Oh! debuted in the Japanese Weekly Shonen Jump magazine in 1996. Yu-Gi-Oh!'s themes of friendship and fighting, together with Takahashi's weird and imaginative monsters, soon became enormously successful, spawning a real-world card game, video games, and three anime series (two Japanese Yu-Gi-Oh! series and Yu-Gi-Oh! GX). A lifelong gamer, Takahashi enjoys Shogi (Japanese chess), Mahjong, card games, and tabletop RPGs, among other games.