The Leadership Code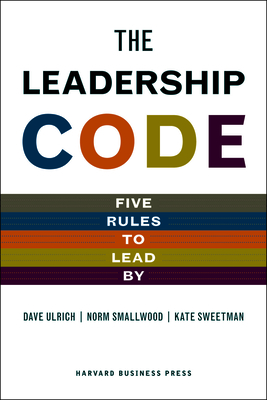 The Leadership Code
Five Rules to Lead by
Harvard Business School Press, Hardcover, 9781422119013, 190pp.
Publication Date: January 8, 2009
* Individual store prices may vary.
Buy Now
or
Shop Local
Enter your zip code below to purchase from an indie close to you.
Description
What makes a great leader?
It's a question that has been tackled by thousands. In fact, there are literally tens of thousands of leadership studies, theories, frameworks, models, and recommended best practices. But where are the clear, simple answers we need for our daily work lives? Are there any?
Dave Ulrich, Norm Smallwood, and Kate Sweetman set out to answer these questionsto crack the code of leadership. Drawing on decades of research experience, the authors conducted extensive interviews with a variety of respected CEOs, academics, experienced executives, and seasoned consultantsand heard the same five essentials repeated again and again. These five rules became "The Leadership Code."
In "The Leadership Code," the authors break down great leadership into day-to-day actions, so that you know what to do Monday morning. Crack the leadership codeand take your leadership to the next level.

About the Author
Dave Ulrich is a Professor at the Ross School of Business, University of Michigan, a partner at the RBL Group, and Executive Director of the RBL Institute. He studies how organizations build capabilities of leadership, speed, learning, accountability, and talent through leveraging human resources. He has helped generate award winning data bases that assess alignment between strategies, organization capabilities, HR practices, HR competencies, and customer and investor results. He has published over 200 articles and book chapters and 23 books.
Jon Younger is a partner of the RBL Group, leads the firm s strategic HR practice, and is a director of the RBL Institute. Jon's career has combined experience in consulting, executive management and HR leadership. He has also managed executive compensation and HR strategyHe is a co-author of many articles and book chapters and two books: "HR Transformation" (2009 Justin Allen, Wayne Brockbank, Jon Younger, Mark Nyman), and "HR Competencies" (2008 Wayne Brockbank, Dani Johnson, Kurt Sandholtz, Jon Younger). His articles have appeared in HR Management Journal, HR Planning Journal, Harvard Business Review, Strategic HR Review among others.
Wayne Brockbank is a Clinical Professor of Business at the University of Michigan's Ross School of Business and an Emeritus Partner in the RBL Consulting Group. At the Ross School of Business, he is the Co-director (with Dave Ulrich and Dick Beatty) and core faculty of the Advanced Human Resource Executive Program. He is also the Director of HR executive programs in Hong Kong, India, Singapore, and United Arab Emirates. Over the past twenty years, these executive programs have been consistently rated as the best HR executive programs in the United States and Europe by the Wall Street Journal, Business Week, Fortune and Leadership Excellence. He serves on the core faculty to Michigan's senior management executive programs in India. He has held visiting faculty appointments in Argentina, Australia, China, Hong Kong, India, the Netherlands, Kuwait, and Saudi Arabia.
Mike Ulrich is a PhD student at the Moore School of Business, University of South Carolina. Before returning to the university, he was a Research Associate for RBL Group where he led the data collection and analysis of the RBL/Michigan global HRCS. Mike's background is focused on research methods and statistical analysis. Mike's work with The RBL Group focused on managing the firm s many research studies (including the HRCS, Leadership Code, and talent management research).
Smallwood is a managing director of Novations, a strategy, organization design, and change management consulting firm.