Conscious Capitalism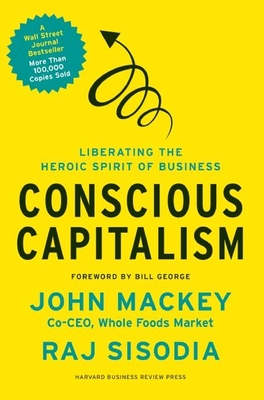 Conscious Capitalism
Liberating the Heroic Spirit of Business
Harvard Business School Press, Hardcover, 9781422144206, 344pp.
Publication Date: January 15, 2013
* Individual store prices may vary.
Buy at Local Store
Enter your zip code below to purchase from an indie close to you.
or
Buy Here
Description
As seen on Oprah's Super Soul Sunday
A "New York Times" and "Wall Street Journal" Bestseller
In this book, Whole Foods Market cofounder John Mackey and professor and Conscious Capitalism, Inc. cofounder Raj Sisodia argue for the inherent good of both business and capitalism. Featuring some of today's best-known companies, they illustrate how these two forces canand dowork most powerfully to create value for all stakeholders: including customers, employees, suppliers, investors, society, and the environment.
These Conscious Capitalism companies include Whole Foods Market, Southwest Airlines, Costco, Google, Patagonia, The Container Store, UPS, and dozens of others. We know them; we buy their products or use their services. Now it's time to better understand how these organizations use four specific tenets"higher purpose," "stakeholder integration," "conscious leadership," and "conscious culture and management"to build strong businesses and help advance capitalism further toward realizing its highest potential.
As leaders of the Conscious Capitalism movement, Mackey and Sisodia argue that aspiring leaders and business builders need to continue on this path of transformationfor the good of both business and society as a whole.
At once a bold defense and reimagining of capitalism and a blueprint for a new system for doing business grounded in a more evolved ethical consciousness, this book provides a new lens for individuals and companies looking to build a more cooperative, humane, and positive future.

About the Author
John Mackey is an American businessman. He is the current co-CEO of Whole Foods Market, which he co-founded in 1980. Named the Ernst & Young Entrepreneur of the Year in 2003, Mackey is a strong supporter of free market economics. He is one of the most influential advocates in the movement for organic food.

Sisodia has taught management and marketing courses at Boston University and George Mason University, and is currently Trustee Professor of Marketing and the founder and Director of the Center for Marketing Technology at Bentley College in Waltham, Massachusetts.

BILL GEORGE is Professor of Management Practice at Harvard Business School, where he has taught leadership since 2004, and the former Chair and Chief Executive Officer of Medtronic. He is the author of several bestselling books.
Praise For Conscious Capitalism…
Advance praise for Conscious Capitalism

Howard Schultz, chairman, president, and CEO, Starbucks
I have long believed that companies have a responsibility to balance profitability with a social conscience, yet few leaders have an inherent understanding of just how to do it. In Conscious Capitalism, John Mackey and Raj Sisodia provide a timely, realistic framework so companies can better serve a variety of stakeholders. I highly recommend listening to what they have to say."

Herb Kelleher, former Chairman and CEO, Southwest Airlines
Conscious Capitalism is a welcome explication and endorsement of the virtues of free-enterprise capitalismproperly comprehended, there is no more beneficial economic systemand a simultaneously pragmatic and inspirational extolment of higher purpose and humanism in business. I hail and revere the tenets of Conscious Capitalism!"

Ratan N. Tata, Chairman, Tata Sons
This book provides the script for a much-needed different narrative for free- enterprise capitalism. Businesses need to be driven by a purpose higher than maximizing profit, and they must ensure optimal benefits to all stakeholders. Only if that happens can capitalism deliver to all humanity the full societal benefits it is capable of."

Sally Jewell, CEO, REI
By so clearly and thoughtfully articulating the tenets of Conscious Capitalism, Raj and John have helped me understand the power behind the sustainable success in our business, raising my consciousness in guiding REI forward to serve a new generation of outdoor enthusiasts and environmental stewards."

Biz Stone, Cofounder and Creative Director, Twitter
John Mackey's journey to awakening is an inspiration not just to entrepreneurs, but to anyone who believes in a new definition of success for capitalismone that includes positive societal impact as well as traditional business metrics."
Thursday, Jan 17, 2013
Steve Inskeep continues his conversation with Whole Foods CEO John Mackey, who in 2009 denounced President Obama's proposed health care law. Mackey's new book is Conscious Capitalism. More at NPR.org