To Dare Mighty Things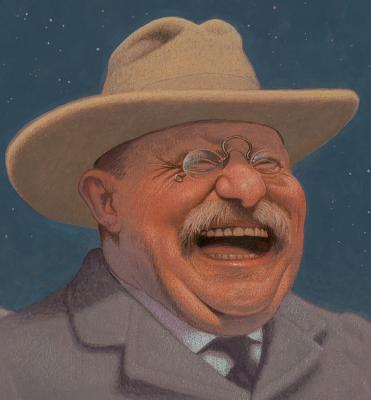 To Dare Mighty Things
The Life of Theodore Roosevelt
Disney-Hyperion, Hardcover, 9781423124887, 48pp.
Publication Date: December 17, 2013
* Individual store prices may vary.
Shop Local
Enter your zip code below to find indies closest to you.
Description
President Theodore Roosevelt is known as "the man with a plan," the "rough rider." His figure stands tall in American history; his legacy stretching him to larger-than-life proportions.

But before his rise to fame, he was just "Teedie," a boy with ambitious dreams to change the world, and the conviction to see his stupendous imaginings brought to fruition.

As an American president, he left an impressive mark upon his country. He promised a "square deal" to all citizens, he tamed big businesses, and protected the nation's wildlife and natural beauty. His fearless leadership assured that he would always be remembered, and his robust spirit now dares others to do mighty things.

In her moving picture book portrait, award-winning author Doreen Rappaport uses her well-honed approach of personal quotes and vivid prose to spin together the tale of a sickly boy who became a monumental man. Coupled with C. F. Payne's dramatic artwork, the story of President Teddy, touchstone of American history, is brought to life.
About the Author
Doreen Rappaport is the recipient of a Children s Book Guild Nonfiction Award for her body of work. Her books have been praised for both their careful research and their varied literary styles. Among the many titles to her name are a trilogy on African-American history, illustrated by Shane W. Evans; books on Native American history and women s history; and many biographies, including Lady Liberty: A Biography, illustrated by Matt Tavares. Beyond Courage, her most ambitious project to date, took more than six years to research and write and presented her with the opportunity to speak directly with some of the survivors whose stories are told within. How Jews organized themselves in order to survive and defy their enemy is an important but still neglected piece of history, she says. I present a sampling of actions, efforts, and heroism with the hope that I can play a role in helping to correct the damaging and persistent belief that Jews went like sheep to the slaughter. Doreen Rappaport lives in upstate New York.

EVE BUNTING has written over two hundred books for children, including the Caldecott Medal-winning Smoky Night, illustrated by David Diaz. She lives in Southern California.