Winning Team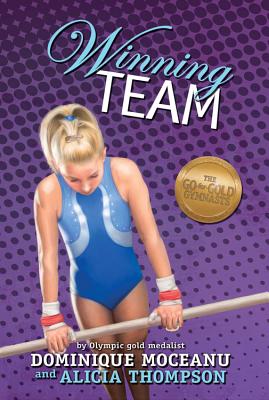 Winning Team
Hyperion Books, Paperback, 9781423136330, 233pp.
Publication Date: April 17, 2012
* Individual store prices may vary.
Not Currently Available for Direct Purchase
or
Shop Local
Enter your zip code below to purchase from an indie close to you.
Description
Twelve-year-old Brittany Lee Morgan is the best. Or, at least she was at her gymnastics training gym in Ohio. But when her family moves to Texas for a world-class facility, Britt is suddenly a zero in the eyes of her new teammates. The other girls-graceful Christina, perfect Noelle, and quiet Jessie-aren't exactly excited by the arrival of the pint-sized powerhouse. Especially since Britt has a way of saying the wrong thing at all the wrong times. But, Britt's not scared of a challenge: she's an Elite Gymnast, and she didn't get there without taking some major risks. She's determined to become friends with the other Texas Twisters, whether they want her to or not.
About the Author
For two decades, Andrea Vecchio spent her professional days and nights as a television broadcaster. Andrea is an Emmy(r) nominated journalist who started her broadcast career working as a producer at the ABC affiliate, WEWS-TV, for Cleveland's legendary morning talk show The Morning Exchange. While working at WEWS-TV, Andrea had an early taste of things to come when she received an out of town assignment to interview Academy Award winner Tom Hanks. After spending three years as a producer in Cleveland, Andrea traveled to Zanesville, Ohio to begin her job as a news reporter for WHIZ-TV. After one year in Zanesville, Andrea returned to Cleveland and started working as a producer and entertainment reporter and talk show host for the NBC affiliate, WKYC-TV. It was here that Andrea traveled the world, interviewing hundreds of Hollywood's elite, including Robert DeNiro, Anthony Hopkins, Meryl Streep, Halle Berry, Denzel Washington, Russell Crowe, George Clooney, Julia Roberts, Matt Damon, Jennifer Aniston, Justin Timberlake and more! Andrea's passion for film led her to become a film critic and member of the Broadcast Film Critic's Association. During her time with the BFCA, Andrea was a voting member for The Critic's Choice Awards. And in 2011, while Marvel was filming The Avengers in Cleveland, Andrea was chosen by the movie studio to film a scene for the blockbuster movie (playing a news reporter). Many of Andrea's assignments took her all over the globe, including Los Angeles, London, Toronto and Bora Bora. It was in New York City that Andrea shot a television special called, Broadway Series: Sneak Peek. This half hour special brought Andrea her first Emmy(r) nomination. Soon after her Broadway Series special, Andrea was asked to guest star in the national tour of Chicago during its run in Cleveland. After 20 years in broadcasting, Andrea pursued her dream of a writing and speaking career. In 2014, Andrea published her first book, Live Your Playlist: How to Get Your S#&! Together One Song at a Time. After speaking to thousands of people through a camera lens every weekday, Andrea is now in high demand as an inspirational speaker and storyteller. And while a room filled with hundreds or thousands of people is a thrill for Andrea, she equally loves the intimacy of smaller groups. You can read her daily Live Your Playlist Blog and get more information on her website www.AndreaVecchio.com.