Don't Pigeonhole Me!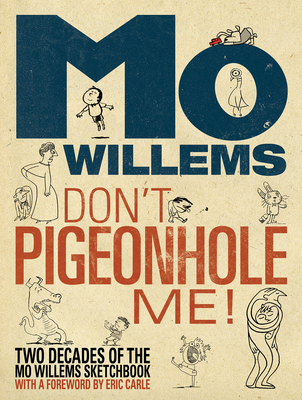 Don't Pigeonhole Me!
Two Decades of the Mo Willems Sketchbook
Disney Editions, Hardcover, 9781423144366, 279pp.
Publication Date: June 18, 2013
* Individual store prices may vary.
Buy Now
or
Shop Local
Enter your zip code below to purchase from an indie close to you.
Description
Young readers first met the Pigeon, a beleaguered bird desperate for a shot behind the wheel of a bus, in 2003. Don't Let the Pigeon Drive the Bus! went on to sell millions of copies, receive a Caldecott Honor, and spawn additional picture books, apps, games, and even silly bands.

But did you know the Pigeon was born many years earlier in the pages of a sketchbook?

In Don't Pigeonhole Me! Two Decades of the Mo Willems Sketchbook, readers are given a rare glimpse into the mind of the man the New York Times described as "The biggest new talent to emerge thus far in the '00s." Since he was a teenager, Mo has been creating characters and scribbling ideas in the pages of sketchbooks. In the early 1990s, he started self-publishing collections of his drawings, and The Mo Willems Sketchbook was created. What began as a calling card for his work has morphed over the years from a form of therapy, to an opportunity to explore and experiment, to a gift for friends and loved ones. But these sketchbooks have always been (and continue to be) the well from which Mo draws ideas and inspiration.

Featuring a foreword by Eric Carle and an introduction by Mo, this volume includes all twenty sketchbooks from the last two decades. Don't Pigeonhole Me! reveals the author/illustrator at his most truthful, most experimental, most grown-up.

Most Mo.

Want to know where ideas come from? Look inside.
About the Author
Mo Willems knows a Good Idea when he sees one. A three-time Caldecott Honor winner (for Don't Let the Pigeon Drive the Bus!, Knuffle Bunny, and Knuffle Bunny Too), he also won two Geisel Medals and two Geisel Honors for his Elephant and Piggie books. His books are perennial New York Times bestsellers, including Knuffle Bunny Free, Hooray for Amanda & Her Alligator!, and the Cat the Cat series. Before he turned to making picture books, Mo was a writer and animator on Sesame Street, where he won six Emmys. Mo lives with his family in Massachusetts.
Eric Carle is the creator of more than seventy picture books for young readers.
Eric Carle was born in New York, USA. However, when he was just six, he moved with his parents to Germany. In 1952, after graduating from the prestigious Akademie der Bildenden Kunste in Stuttgart, he fulfilled his dream of returning to New York.
Eric Carle has received many distinguished awards and honours for his work, including, in 2003, the Laura Ingalls Wilder Award for his lifetime contribution to children's literature and illustration.
In 2002, fifty years after Carle's return to the United States, The Eric Carle Museum of Picture Book Art was opened in Amherst, Massachusetts. Here visitors of all ages can enjoy, in addition to Eric Carle's work, original artwork by other distinguished children's book illustrators from around the world.
Eric Carle es el creador de mas de setenta libros ilustrados para ninos.
Nacio en Syracuse, Nueva York, pero a los seis anos de edad se traslado con sus padres a Alemania. En 1952, tras graduarse de la prestigiosa Akademie der Bildenden Kunste de Stuttgart, logro cumplir su sueno de regresar a Nueva York.
Ha recibido muchos e importantes premios y distinciones, entre ellos el Laura Ingalls Wilder Award en 2003, por su aportacion global a la literatura y a la ilustracion infantil.
En 2002, cincuenta anos despues de su regreso a los Estados Unidos, se inauguro en Amherst, Massachusetts, el Museo Eric Carle de Libros Ilustrados, donde se exhibe, ademas de la obra completa de Eric Carle, un buen numero de originales de los mas destacados ilustradores de libros infantiles del mundo entero.