The Gumazing Gum Girl! Book 1 Chews Your Destiny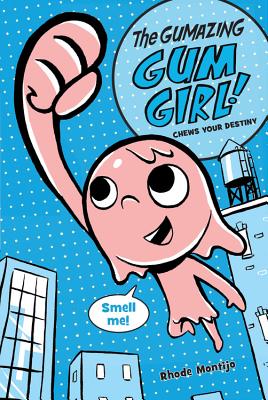 The Gumazing Gum Girl! Book 1 Chews Your Destiny
Disney-Hyperion, Hardcover, 9781423157403, 128pp.
Publication Date: August 20, 2013
* Individual store prices may vary.
Buy at Local Store
Enter your zip code below to purchase from an indie close to you.
or
Buy Here
Description
Gabby Gomez loves to chew bubble gum even though her mother has warned her against it. It's not like she will turn into gum...except, that's exactly what happens! With her new, stretch-tastic powers Gabby can help save the day, but she will have to keep her gummy alter-ego a secret from her mother or else she'll find herself in a really sticky situation.
About the Author
When Rhode Montijo (http: //www.rhodemontijo.com/) was seven the children's book, HAROLD AND THE PURPEL CRAYON, by Crockett Johnson, was read to him and ever since then he has had a passion for stories. Montijo received a BFA in illustration from California College of Arts and Crafts in 1996, and though he was initially nervous about submitting his own work for publication, he was later involved in a car accident that changed his whole view on life and encouraged him to pursue his dream. CLOUD BOY is his first published children's book, and he has since published many works such as THE HALLOWEEN KID, and has illustrated Greg Trine's SUPERHERO series
Praise For The Gumazing Gum Girl! Book 1 Chews Your Destiny…
Chewing gum imbues a girl with gooey superpowers in this laugh-out-loud early chapter book. Gabby Gomez loves chewing gum, anyplace, anytime-even in her sleep. So when she wakes up with gum stuck in her hair, her mother decides she's had enough and outlaws the sticky substance. Poor Gabby doesn't mean to disobey her mother, but when she discovers a piece of MIGHTY-MEGA ULTRA-STRETCHY SUPER-DUPER EXTENDA-BUBBLE BUBBLE GUM, she can't resist. The special gum results in the biggest bubble ever, and when it pops, the outcome is not just a gum-covered girl, but one with sudden gummy superpowers. Gabby's new powers enable her to help people in need, but the price of hiding them from her mom is hard to bear. Using a successful blend of traditional prose, dialogue bubbles and bold-lined, black-and-white illustrations, Montijo delivers laughs all the way through, ensuring that the "moral" never hampers the fun. The one place Montijo stumbles is in the disappointing portrayal of class bully Natalie Gooch, a stereotypically large, boyish-looking girl; there are plenty of small "girly-girls" who are horrible bullies-let's see more of those. Perfectly paced and bursting with laughs, the tale will appeal to fans of humor and reluctant readers alike, who will identify with Gabby's sticky situation. (Fiction/graphic hybrid. 6-9)—Kirkus

When a piece of "MIGHTY-MEGA ULTRA-STRETCHY SUPER-DUPER EXTENDA-BUBBLE BUBBLE GUM" combines with a low-hanging power line to produce a shock that completely coats Gabby Gomez in pink goo, she's worried about getting herself cleaned up before her mami finds her. On the way home, she stops a purse thief, in the process discovering that she's not covered in gum; instead, she's become Gum Girl, complete with sticky, elastic appendages that are perfect for saving the world. Gabby must discover how to hide her powers from her classmates and family (peanut butter turns her back to normal) and how to get them back so that she can stop planes from crashing (popping a bubble allows her to metamorphose). The chapter book-cum-graphic novel is an exploding format, and Montijo's tale fits right in, with lines of text alternating with full-page art that moves the story along with speech bubbles, comics-style omniscient narrations, and mood-setting sound effects (several chapters end with a dramatic "DUN! DUN! DUN!"). Montijo's thickly outlined and stylistically simple drawings are playful, pleasing, and easy to parse, making them a foil for the detailed text and rich vocabulary. The story is also lightly peppered with Spanish words, easily decoded from their context by non-speakers, bringing some diversity to a world populated mostly by characters like Babymouse and Captain Underpants. Gabby's also more gender-neutral than either of those, lacking the frills of the former and the potty humor of the latter, but she maintains the spunk of both. Her good heart and realistic struggles with her mom and classroom bullies make her eminently relatable, and her exuberant voice (she bursts into song when excited) makes her a welcome addition to the ranks of early-elementary superkids. A final "DUN! DUN! DUN!" sets Gum Girl up for future exploits. TA—BCCB

Gr 9 Up Caught in a time loop, Ben and Maggie are forced to repeat the same two days over and over. Each loop ultimately ends with their cold-blooded murder at the hands of a ruthless killer. While Ben experiences only a strong sense of d j vu, Maggie can remember certain pieces of previous loops. Together the teens decide to tempt fate, alter the circuit, and avoid destiny, thus beginning a life-or-death roller-coaster ride where danger, intrigue, and suspense linger at every turn. Readers will root for the likable although superficial main characters as they try to take control of their lives. A strong and fast-paced plot drives this short but gripping time travel adventure. While there are some questionable moments and loose ends, this debut novel comes to a satisfying conclusion. Donna Rosenblum, Floral Park Memorial High School, NY—SLJ