Endless Forms Most Beautiful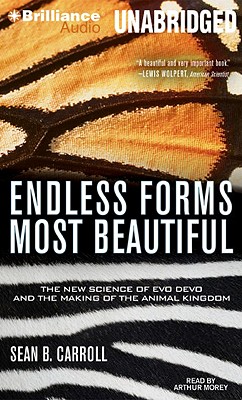 Endless Forms Most Beautiful
The New Science of Evo Devo and the Making of the Animal Kingdom
Brilliance Audio, Compact Disc, 9781423378105
Publication Date: August 1, 2009
* Individual store prices may vary.
Buy at Local Store
Enter your zip code below to purchase from an indie close to you.
or
Not Currently Available for Direct Purchase
Description
For over a century, opening the black box of embryonic development was the holy grail of biology. Evo Devo -- Evolutionary Developmental Biology -- is the new science that has finally cracked open the box. Within the pages of his rich and riveting book, Sean B. Carroll explains how we are discovering that complex life is ironically much simpler than anyone ever expected. Perhaps the most surprising finding of Evo Devo is the discovery that a small number of primitive genes led to the formation of fundamental organs and appendages "in all animal forms." The gene that causes humans to form arms and legs is the same gene that causes birds and insects to form wings, and fish to form fins; similarly, one ancient gene has led to the creation of eyes across the animal kingdom. Changes in the way this ancient tool kit of genes is used have created all the diversity that surrounds us. Sean Carroll is the ideal author to lead the curious on this intellectual adventure -- he is the acknowledged leader of the field, and his seminal discoveries have been featured in Time and The New York Times.
About the Author
SEAN B. CARROLL is professor of molecular biology and genetics and an investigator with the Howard Hughes Medical Institute at the University of Wisconsin. He is the author of The Making of the Fittest and Endless Forms Most Beautiful: The New Science of Evo Devo, a finalist for the Los Angeles Times Book Prize and a best science book of the year in Discover magazine and USA Today.

Arthur Morey has recorded over two hundred audiobooks in history, fiction, science, business, and religion, earning a number of AudioFile Earphones Awards and two Audie Award nominations. His plays and songs have been produced in New York, Chicago, and Milan, where he has also performed.