National Geographic Almanac of American History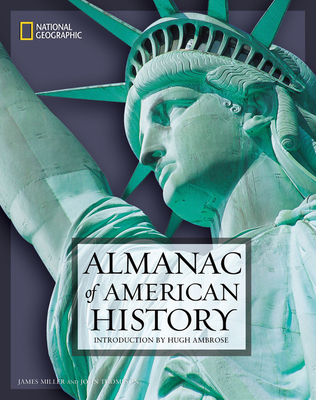 National Geographic Almanac of American History
National Geographic Society, Paperback, 9781426200991, 384pp.
Publication Date: August 21, 2007
* Individual store prices may vary.
Shop Local
Enter your zip code below to find indies closest to you.
Description
Featuring National Geographic's hallmark combination of stunning images, superb maps, authoritative narrative, and concise, penetrating analysis, the Almanac of American History has been carefully designed to offer its readers not just a wider and deeper understanding of our country's development, but also an inviting mix of fascinating facts and colorful graphics that make it a browser's delight.

After the Introduction by respected historian Hugh Ambrose and a special feature on how to use the Almanac's features most efficiently, the book is divided into four major parts, each exploring a different aspect of America's history. The first explores the continent's geology and geography to answer the fundamental question of how the vast, rich landscape shaped both our expanding society and our sense of ourselves. In Section 2, Milestones, twelve essays discuss how America evolved from a sparsely settled wilderness into the global leader it is today. Section 3 covers the major eras in America's history, beginning with the earliest Native Americans and closing with the first decade of a new millennium. Finally, a thematically organized section discusses such important topics as Leaders, Wars, Religion and Beliefs, and Presidents. An appendix features Milestone Documents, including the Declaration of Independence, the Emancipation Proclamation, the Gettysburg Address, and more. A bibliography and a comprehensive index complete this indispensable reference.
About the Author
James Miller teaches a cycle of courses on Dante for the Comparative Literature and Culture program at the University of Western Ontario in London, Canada. His other books include Measures of Wisdom: The Cosmic Dance in Classical and Christian Antiquity and Fluid Exchanges: Artists and Critics in the AIDS Crisis. He has also translated Andrew Pawlowski's play Dante on the Steps of Immortality. James Miller looks forward to a hot afterlife on the Seventh Terrace of Purgatory.

John B. Thompson is Reader in Sociology at the University of Cambridge and Fellow of Jesus College, Cambridge.